ZOEY DEAN
Zoey Dean is also the author of many young adult titles, including the best-selling A-List series.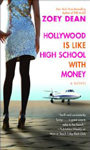 Hollywood is Like High School with Money (2009)
Zoey Dean, author of the A-List series and How to Teach Filthy Rich Girls (which was turned into the brilliant-but-cancelled TV show Privileged), brings us yet another great novel about the rich and famous. It follows Taylor Henning as she moves from Connecticut to LA to pursue her dream of making good movies. She starts as a second assistant at Metronome Studios where she is immediately misled, undermined and completely ignored by her catty co-workers. After a chance meeting with her boss' 16-year-old daughter Quinn - who has entitlement written all over her pretty little face - Taylor develops an idea: Quinn can help her become Metronome material. Starting with simple things such as changing the way Taylor dresses to teaching her the rules to live by (Rule #1: Fake it til you make it), Taylor begins to feel right at home and grows more confident as she amazes her co-workers with her new-found self. However, things slide downhill when Taylor hears through the rumour mill that Kylie - the first assistant and Taylor's nemesis - is getting a major promotion. She tells Quinn that she wants to take Kylie down - not really knowing what kind of devious plan a teenage mastermind can come up with. When instructed to steal Kylie's gorgeous boyfriend, Luke, Taylor is resistant at first but comes around after Quinn reminds her that Kylie would have no problem doing this to her. Everything goes according to plan until Taylor starts falling for Luke and her lies - inside and outside of work - start to mount up. It takes Taylor losing everything to find out who she really is and who she wants to be. Life has a funny way of taking you the long way around to get to the things that make you ultimately happy and Taylor finds that out in the end. Is this an escapist read? Yes. But it's a book that is worthwhile and fun. And you never know, you might just find some important lessons about being true to yourself buried within the pages. (AS)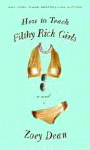 How to Teach Filthy Rich Girls
Yale graduate Megan Smith takes a job at a trashy tabloid, waiting for her big break into serious journalism. But her inability to come up with juicy story ideas for Scoop sees her fired. But her boss recommends her for another job - as tutor to two Palm Beach heiresses, the Fabulous Baker Twins - Sage and Rose. Their grandmother Laurel Limoges, a cosmetics queen, reveals the scholastically challenged girls will only receive their $84 million inheritance if they get into Duke University; Megan will get her college debts paid out if they succeed. Megan also decides to use her time in Florida to kick-start her career, by writing an expose of the shallow Palm Beach society. The twins have no intention of dragging themselves away from the pool to study and enjoy tormenting dowdy Megan until she realises that she has to transform her appearance to win them over. Meanwhile Megan finds herself thinking less about her boyfriend from home, and more about Will, the boy-next-door.

---
---