NEW RELEASE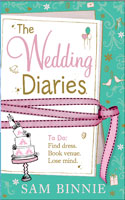 The Wedding Diaries - Sam Binnie (2012)
After Kiki's fiance Thom pops the question, Kiki chronicles the path to the altar in a diary. When her publishing company take on a celebrity wedding book, Kiki has to cover the wedding (and the hen do, and the run-up...). As Kiki starts to descend into bridezilla territory, all her wedding plans start to disintegrate. Will there even be a wedding by the end of the diary? Written in diary style, it does take a little while to get into the flow of the book, especially the dialogue. But after the first month I started to enjoy the style. I'm sure that anyone who has either planned a wedding or known anyone with a hint of bridezilla will be able to relate to this entertaining and funny story, the first in a trilogy. (AB)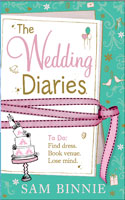 The Wedding Diaries, by Sam Binnie, the first in a new series, is about a woman who is on a mission to create her perfect wedding. The synopsis says: "Kiki Carlow is shocked but delighted when boyfriend Thom proposes. Planning a wedding is easy, right? That's as long as you ignore:
1. The utterly bankrupting price of the only dress you'll ever truly love.
2. Your suddenly pregnant sister - surprise!
3. The celebrity wedding you're covering for work which is devouring your every waking thought.
4. The Mother of the Bride. Entirely.
Kiki soon discovers that planning the perfect wedding might just bring total chaos to the rest of her life. Can she stop being a Bridezilla in time to marry the man she loves?" The Wedding Diaries is out in August. Binnie is a copywriter for Penguin Classics. The second book, The Baby Diaries, is due out in 2013.
---
---