NEW RELEASE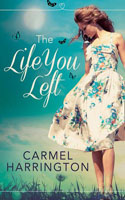 Sarah Lawler awakes one morning to a strange email from her husband. He isn't coming home. Questions begin to filter through her mind. Is he OK? Where is he? What did I do wrong? How could he need space from his three children? From that moment, Sarah has to pull herself together and continue caring for her three children. Shifts at work are becoming few and far between and the bills are piling up. Her twin brother, James, does all he can to bring some normalcy into the lives of the children who are desperately missing their father. And then there is Edward... Sarah's childhood friend. His return in Sarah's life is at first overwhelming and a sign of trouble for James. Through communication with Edward, Sarah recognises there are changes which need to be made and with his help, Sarah will realise just how strong she is. Carmel Harrington has done it again with this brilliantly written second novel. It is about family, change, love, loss and finding within oneself an undeniable gift. As Sarah's journey unfolds, one cannot help but want to be a part of her life - to help her see this journey through to the very end. This time around, there are two villains ... one of which you will want to slap and the other of which you will want to hurl abuse at. You will fall in love with Edward and admire Sarah's strength in adversity. You will envisage things you never thought possible and most of all you will finish this novel in one sitting because you simply cannot put it down. Highly recommended and a must read! (MP)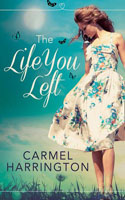 The Life You Left is the much-anticipated second novel by Carmel Harrington. The synopsis says: "To: sarahlawlor0902@yahoo.ie
From: paul.lawlor@cgqh.ie
Subject:
Sarah, I'm not coming home tonight...
It started out like any other day for Sarah Lawler; getting the kids ready for school, making the pack lunches and juggling baby Ella's feeds. There was no way of knowing that her husband, Paul, would leave for work that morning and simply not come home. Now the questions are piling up quicker than the unpaid bills and, unable to answer her children's questions about where their Daddy is, Sarah is getting desperate. But it turns out she isn't quite as alone as she thought she was. When her beloved childhood friend, Edward, comes back into her life, Sarah thinks she's finally been thrown a life line. There's just one problem with Edward: no one else can see him. Edward is an angel. And he has a message for Sarah that will change her life and the lives of others forever. For it is only in the most difficult of times that Sarah can discover how strong she truly is.."
---
---