SONALI DEV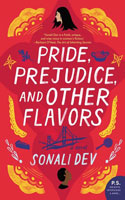 Pride and Prejudice and Other Flavors (2019)
In this Pride and Prejudice-inspired tale, Trisha Raje is an accomplished neurosurgeon but is still considered a bit of a black sheep in her influential Indian-American family. She has found a way to save the life of a young artist called Emma but the operation will make her blind.
Meanwhile Emma's brother, DJ, is a talented chef who has taken on the responsibility of looking after his sister so needs to do well when he is hired for a catering job for the Rajes. His first impression of Trisha is that she is stuck-up and intolerable.
This tale about pride, prejudice, privilege and passion sees the author put her own unique spin on the classic story. It has all the ingredients to entice a reader into this upcoming series about the family descended from Indian royalty.