INDUSTRY NEWS
Jade Craddock headed to a luncheon on October 15 to meet American columnist Meredith Goldstein, and discuss her debut novel The Wedding Guests.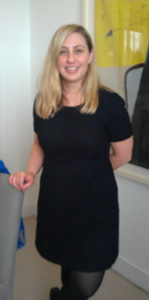 This week I travelled to London for a bloggers' lunch at the offices of Penguin in the delightfully grand 80 Strand to meet author Meredith Goldstein, pictured right, and discuss her debut novel The Wedding Guests (known in the US as The Singles). On the 10th floor, we were treated to spectacular views of the capital and a lovely lunch. The atmosphere was relaxed and informal, and Meredith, who by day is a journalist for the Boston Globe, with her own successful agony-aunt column, Love Letters, proved a willing and honest personality, openly offering an insight into the personal experiences that informed the story of her novel. She admitted that as a journalist, she found it particularly counter-intuitive to write fictionally and felt that perhaps she would have liked the book to contain more fictive elements. Without this prior knowledge, the book comes across as a perfect work of fiction. That Dawn, perhaps the most caricatured and seemingly fictitious of the characters, is actually based on a real person drew some astonished gasps.

Meredith also discussed the ending of the novel, which is distinctive for its openness, claiming that this was one of the areas on which she drew on feedback from her agent and sister, changing it significantly from its original plan. With the events of the book taking place over the course of the wedding, Meredith was acutely aware that any drastic change in the livelihoods and circumstances of her characters was implausible and thinks that the opening allows readers to speculate on where they think the characters will be in a couple of years. Despite questions over a sequel, this was not in Meredith's mind as she wrote the novel and whilst her next book will be a departure from The Wedding Guests, she did hint that perhaps one of its characters may crop up in its pages. However, she was keen to stress that she will not be following the same multi-character structure that defined her debut.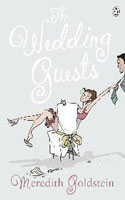 Perhaps one of the most interesting insights into Meredith's writing was her love of young adult fiction and her indebtedness to Stephenie Meyer, who she includes in the book's acknowledgments, because of the impact the Twilight books had on her as she began writing. She also shared an insight into the characterisation of Rob, confessing that she used Robert Pattinson as the inspiration for revitalising Rob into a more appealing character. Particularly exciting are the potential plans for the book to be made into a movie, although Meredith acknowledged that it's still early days. But this is a definitely a call to watch this space! Covering everything from book covers to Arnold Schwarzenegger, e-readers to V.C. Andrews, the lunch was a wonderfully informal and informative chat and I look forward to forthcoming projects from Meredith. Thanks also must go to Katie Sheldrake for a perfectly hosted event.
---
---