NEW RELEASE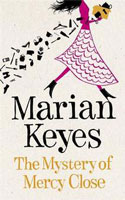 The Mystery of Mercy Close - Marian Keyes (2012)
The recession has hit private investigator Helen Walsh hard - she's lost her flat, her work has all but dried up and some old demons are beginning to resurface. When her ex-boyfriend Jay Parker shows up with a missing persons case, Helen is so broke she has no choice but to take it on. The missing person is Wayne Diffney, the wacky one from boyband Laddz, and he has vanished from his house in Mercy Close just five days before their big comeback concert. Despite having a new boyfriend, being around Jay Parker is stirring up all sorts of things Helen had thought she'd left behind. Can she solve the mystery in time for the reunion concert, and get her life back on track at the same time? This much-anticipated novel about many people's favourite Walsh sister, Helen, did not disappoint. Helen has always been my personal favourite, so this book was absolute heaven to me! Her witty turn of phrase and no-nonsense attitude are what make her so brilliant a character and I am now the proud owner of my very own Shovel List. With Helen being a private investigator the mystery angle was the obvious one to go down, but it was not only a breath of fresh air from the more usual romance angle of chick lit, it was pulled off expertly. It was obviously meticulously planned and every detail thought through thoroughly, as there were no cracks in the plot, no predictability. You will be kept in suspense right to the end. Keyes' mix of well thought-out storylines, humorous writing style and her ability to convey the subject matter in a light-hearted, upbeat way without diminishing the serious issues she is tackling are what makes her a queen of this genre, and this latest Walsh sister instalment cements that title even more. A flawless, fabulous read. (LO)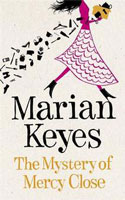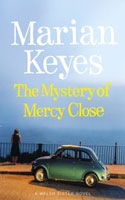 Marian Keyes finishes off her series of books about the Walsh sisters with one focusing on private investigator Helen. The synopsis of The Mystery of Mercy Close says:
'I employ this thing called The Shovel List.'
'A shovel...?'
'No. A Shovel List. It's more of a conceptual thing. It's a list of all the people and things I hate so much that I want to hit them in the face with a shovel.'
Meet Helen - youngest of the Walsh sisters and a law unto herself. She's easily bored, has an inability to filter her thoughts and was fired from every job she ever had before she found her true calling as a private investigator. But times are tough for PIs and Helen's had no choice but to take on the search for AWOL boyband has-been Wayne Diffney - The Wacky One. It's not all bad this game of Where's Wayne. It may have brought her charming crook of an ex, Jay Parker, back into her life, but it's giving her an excuse to avoid the usual Walsh family dramas and the intense looks from her gorgeous boyfriend Artie that make her heart beat wildly with lust and panic in equal measure. But most of all it's an excellent distraction from the huge swarm of black vultures gathering over her head. If she hides out in her target's empty house on Mercy Close for long enough maybe they'll go away ... But as Helen begins to unravel the mysteries secreted on Mercy Close she discovers a kindred spirit in a man unwilling to be found. Could someone be telling her to look a little closer to home . . . ?" The Mystery of Mercy Close is out in September. This is Keyes' first novel for three years after she took a break to battle depression.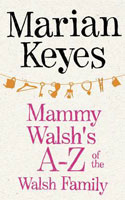 For those waiting for the release of Marian Keyes' The Mystery of Mercy Close, here's an ebook to keep you going. Mammy Walsh's A-Z of the Walsh Family is a guide to her gloriously dysfunctional family. "There's this woman I know from bridge, Mona Hopkins, a lovely woman she is, even if I must admit I'm not that keen on her myself, and she said a great thing the other day. I was expecting her to say "Two no trumps," but instead she comes out with a saying about her children. She says, "Boys wreck your house and girls wreck your head." Isn't that a marvellous bit of wisdom - "Boys wreck your house and girls wreck your head!" And God knows it's the truest thing I've heard in a long time. I should know. I have five girls. Five daughters. And let me tell you, my head is wrecked from them. Although, now that I think of it, so is my house . . .'" See Marian Keyes' website for an extract. Or check out this video of Keyes answering frequently asked questions below.
---
---