JANE FALLON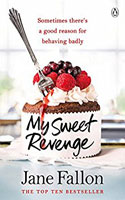 My Sweet Revenge (2017)
When Paula finds out that her husband of eighteen years has been having an affair with his work colleague, instead of going in all guns blazing she decides she's going to play the long game and enact her own form of revenge on Robert and his mistress, Saskia. And better still she plans on getting Saskia's husband, Josh, on board too. It is going to be one epic act of retribution – if they can pull it off.
Set in the world of TV drama – actors Robert and Saskia play an on-screen husband and wife – you'd be forgiven for thinking that the plot of this novel is something straight out of a soap opera special, replete with far-fetched twists, and curious double falsehoods, and it does all become a bit farcical. However, as with any good soap opera, everything goes, and sometimes the zanier, the better. (JC)

---
---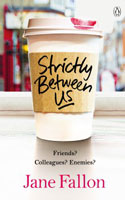 Strictly Between Us (2016)
What would you do if you heard rumours that your best friend's husband was cheating on her? For Tamsin, the answer is to set up a honey trap. But when things don't go according to plan, she gets embroiled in a far worse scenario and risks losing best friend Michelle. Even worse, Michelle's husband, Patrick, still seems to be playing around and Tamsin is stuck between a rock and a hard place.
The blurb gives a bit too much away for my liking but this is one heck of a riveting, exhilarating read as you follow Tamsin to see how things are going to unravel. There's tension and drama aplenty. Fallon blurs moral boundaries and implicates her heroine as much as she exonerates her. But it's a fascinating approach to characterisation and one that reveals the grey areas. As such, the plot doesn't always go the way you would expect, instead Fallon shows the complications of the situation and doesn't try to take the easy route out. And although this means that Tamsin may not get her happy ending, it does make for a much more nuanced and thought-provoking depiction of friendships, relationships and morality. (JC)

---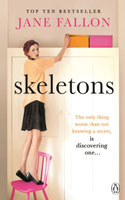 Skeletons (2014)
Holding on to a secret is hard. Holding on to a secret which could destroy a family is even more difficult. Jen is part of the Masterson family, marrying the only son of real estate millionaire Charles. With both daughters now at college, Jen and husband Jason are settling into the routine of empty nesters and struggling to find common ground on topics which don't revolve around their doting children. The Mastersons are a close-knit family where on the surface, the bond between each family member is impenetrable. Jen discovers a secret which would destroy the very essence of this family or at least her own part in the Masterson clan. As secrets go, there is no one way to expose it without destroying lives in the process. As the days pass, the pressure of holding the past and future of her family in her hands begins to take a toll of Jen - both physically and mentally. As Jen attempts to mend fences with her own family, she finds herself confiding in a stranger. A chance for her to offload the secret but at the same time burdening her with another. Actions of sharing secrets have repercussions and with repercussions come consequences.
Jane Fallon has produced a magnificent story of a family where, with the utterance of one secret, could destroy all family connections. The characters and the sense of family are totally relatable. As the reader begins the journey of Jen Masterson's story, you begin to think you know what is going to happen but then there is a twist and a turn leading the reader down a completely different path! Superbly written and clever in its delivery, it's colourful, funny, intimate and most of all unpredictable. (MP)

---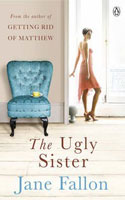 The Ugly Sister (2011)
Abigail has always played second fiddle to her more beautiful sister Caroline. But as a child Abigail didn't mind that Caroline was the one to inherit their parents' good looks, or care how it affected the way people treated them, because Caroline proved to be not only her big sister, but her best friend and protector too. But when Abigail was 13, Caroline stepped into the world of modelling and got so caught up in her fame and success that she left her old life behind (including her sister). Eighteen years have passed, and Abigail is now a single mother who works part-time at a library. Her daughter, Phoebe, is already moving out, and has plans for a rather bright future. Abigail though has no place to stay since she sold her small cottage way before getting possession of her new flat. Then she receives an email from Caroline, after so many years of hardly any contact, inviting her to spend the summer holidays with her family. Abigail thinks it may be the perfect opportunity to re-establish their sisterly bond. But upon meeting her sister's family, she discovers that her visit is not going to be two fun-filled months of sightseeing but will instead see her step into the role of nanny while Caroline stages her modelling comeback.
This is an intriguing story with a clever title which had me trying to figure out which of the characters really fit the profile of The Ugly Sister. (XT)
---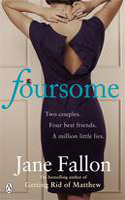 Foursome (2010)
Rebecca has always revelled in the cosy friendship formed when she and Isabel married best friends Dan and Alex. Now 20 years down the track, Alex has just left Isabel, telling Rebecca that he's always actually loved her. So as well as worrying about how her best friend is coping and making sure no one finds out about Alex's declaration, Rebecca's also stressing about how the break-up is going to wreck her tight social circle. Things get even more strained when Alex starts dating Lorna, her nightmare colleague at the talent agency, who really needs to spend less time chatting about herself and more time eating.
Even though this is essentially a story about the breakdown of the bond between two couples, the rivalry between Rebecca and Lorna is far more compelling.
---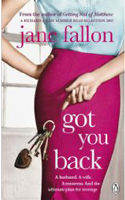 Got You Back (2008)
When Stephanie discovers a suspicious message on her husband James' mobile, she tracks down the female caller and finds that he has been living a double life. He spends the early part of the week living with his girlfriend Katie in a rural town while he runs his vet practice, then the rest of the week in London with Stephanie and their son Finn. Stephanie convinces a shocked Katie not to tell James what they have uncovered - instead they join forces to make his life hell first. But then one starts taking the revenge a bit too far and James' life really starts falling apart.
It'll keep you reading to find out whether revenge is indeed sweet but I would have preferred a bigger showdown or twist at the end.
---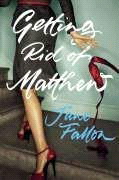 Getting Rid of Matthew (2007)
Helen has been having a secret affair with a married man - her former boss - for the past four years. So when Matthew finally leaves his wife, Sophie, and moves in with Helen, you think she'd be delighted. But now she's decided she doesn't want him anymore. So Helen embarks on a campaign to get rid of Matthew, including befriending his wife. One of the best releases of 2007.