TIS THE SEASON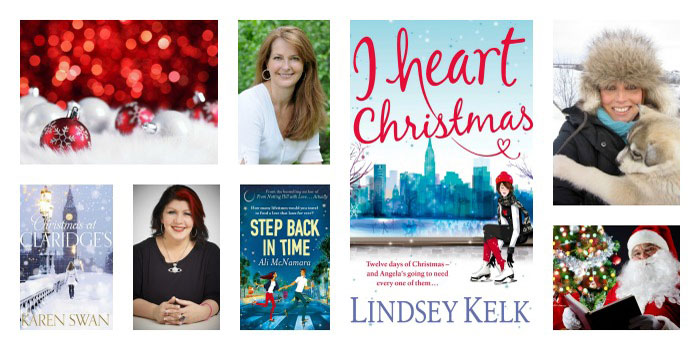 In this two-part series, your favourite authors reveal which women's fiction book they are hoping to find in their stocking on Christmas Day 2013. (Compiled by Jade Craddock)
Sinead Moriarty: I would love to have the new Bridget Jones book (Mad About The Boy). It was the original Bridget Jones book that made me want to be a writer. It was so free and funny and honest. I realised that women want to read about everyday life and all of the little things that go wrong and to laugh at it all. It also made me realise that you could write a comedy and still have really poignant moments that made your reader cry.

Carmel Harrington: I would quite like to receive Astonishing Splashes of Colour by Clare Morrall, who won the Booker.

Zoe Miller: I'm hoping to curl up with Deirdre Purcell's The Winter Gathering over the Christmas. I love her complex, multi-layered stories about life, love, and relationships. Deirdre writes big sagas with a rich cast of characters that draw you right in. This story is about friendship and I know I'll enjoy escaping into it during those relaxing, feet up, post-Christmas afternoons. I also love the cosy, Christmassy cover.

Melissa Hill: Ali McNamara's Step Back in Time about a girl who ends up bouncing through different time periods in the past. Love the time travel aspect and as 70s child I know I'll appreciate much of the setting.

Sue Fortin: Just for Christmas by Scarlett Bailey - I love the cover and it sounds like a fun, feel good Christmassy type of read.

Belinda Jones: 12 Dates of Christmas by Lisa Dickenson - this is a cute concept, her novel is coming in six parts, two dates per ebook. Reading it will be a bit like opening an advent calendar! Lisa was one of the 10 writers shortlisted for the Sunlounger short story competition this past summer and she has such exuberant energy and humour, it should be a really funny, heart-felt read. Also The Signature of All Things by Elizabeth Gilbert. The author of Eat, Pray, Love is getting all fictional, botanical and historical. I think it will probably be beautifully inspiring.

Alice Peterson: I haven't read any Paige Toon's so I'd like her latest, The Longest Holiday. If I can be greedy and have more than one, anything by Jojo Moyes too...

Alexandra Brown: Does it have to be women's fiction, because I really want David Jason's autobiography, My Life.

Kat Black: There seems to be so much great women's fiction being published at the moment that I feel genuinely spoilt for choice. If I had to pick just one book to find in my Christmas stocking (which I hope this doesn't turn out to be the case, as I do feel I've been exceptionally good this year!) it would be Bridget Jones: Mad About the Boy by Helen Fielding. I'm dying to catch up with the loveable Bridget after all these years, but like a lot of fans, my enthusiasm is tempered by a cautious reservation over the news of the demise of Mark Darcy. To sacrifice such a well-loved hero and risk the wrath of Darcy Devotees the world over is such an incredibly bold move of Fielding's, that there's no way I'm able to resist finding out how both author, and character, handle it. My other choice would be the revamped version of Jane Austen's Sense and Sensibility by Joanna Trollope. Combining the talents of two such great authors - separated by centuries yet both masters at portraying the nuances of peculiarly British society with great wit - sounds like the perfect partnership to me.

Laura Ziepe: I want to read The Husband's Secret (by Liane Moriarty) after a family friend recommended it recently. This is definitely the next book on my list!

Wendy Lou Jones: I have a couple I'm waiting for coming out next year, but usually I like to read by different authors all the time. Pot luck!

Victoria Connelly: My lovely fellow Notting Hill Press authors all have fabulous Christmas titles out - Michele Gorman's Christmas Carol, Ruth Saberton's Weight Till Christmas and Talli Roland's Last Christmas and I'm looking forward to snuggling up by the woodburner and indulging in those seasonal treats!

J. Lynn: I'm hoping for the rest of Sophie Jordan's New Adult books to somehow mysteriously appear in my stocking. Wondering if Santa can make that happen...

Janey Fraser: Joanna Trollope's Sense and Sensibility. I adored the original but I can see that it could be just as much fun in today's world. Joanna was once kind enough to give me some writing advice before I got published. Not all world-famous authors would do that.

Georgia Hill: I'd like the new Bridget Jones in my stocking please, even if it comes without the delectable Mark Darcy and his dodgy Christmas jumper.

Carrie Duffy: Christmas at Claridge's by Karen Swan. Karen is fast becoming one of my must-read authors, and I loved her last novel, The Perfect Present - especially the ski scenes, set in the most incredible and luxurious-sounding ski lodge. Her books are never straight forward love stories either - there's always an unexpected twist or unusual back story. The cover for Christmas at Claridge's is so glam and Christmassy, so it's my pick for the festive season!

Linn B Halton: To have all of the Harper Impulse books on my Kindle (I'm nearly there!) because if it snows I'm hoping for a reading love fest!

Milly Johnson: I'd like a miracle to occur and to find a 4th Bridget Jones book in my stocking. I've just finished Mad About The Boy and now I am bereft.

Helen Chandler: Well, ideally I'd like a stocking full of books! But if I have to pick just one, I'd say The House We Grew Up In by Lisa Jewell. She's one of my absolute favourite authors, and I've been resisting buying her latest because once I've read it I won't have it to look forward to any more. But Christmas might be the time to give in and enjoy it.

Alison Mercer: This is a tough one, but my answer has to be Charlotte Mendelson's Almost English. I love a school story, and this one is about a Hungarian family too. I'm a big fan of Charlotte Mendelson's Daughters of Jerusalem, which helped me get in the right frame of mind to tackle writing about Oxford in After I Left You. There are going to be some teenage characters in my next book, so I'm intrigued to find out more about 16-year-old Marina, the heroine of Almost English - I'll be looking to pick up some tips on writing about adolescents along the way!

Sarah Pekkanen: I just read the new Bridget Jones book on my Kindle and loved it so - I cried more than once, and laughed a dozen times. I would be thrilled to find a hard copy of the book in my stocking, and it would be even better to have it signed by Helen Fielding (are you listening, Santa?)

Anna Bell: It's got to be I Heart Christmas. I'm a huge fan of Lindsey Kelk and the I Heart series. When I heard that there was a new one being written and it was a Christmas book, it went straight to the top of my wish list. I'm a real sucker for books set around Christmas time, and I generally try and read as many as I can in the run-up to the festive season. I also love it when a series that you thought was finished comes back to life and you get to catch up with the characters who feel like old friends.

Kate Long: I'm hoping Santa's going to bring me Laurie Graham's latest, The Liar's Daughter, because everything I've read of hers has been fantastic. I've been meaning also to catch up with Stella Newman's Leftovers - her debut novel Pear Shaped made such an impression on me.

Claire Dyer: I am looking forward to reading The Last Runaway by Tracy Chevalier and Twins by Saskia Sarginson.

Sun Chara: The Power of One.

Charlotte Phillips: I've been holding off on reading the new Bridget Jones - Mad About The Boy. I adored the first two and I know it's had mixed reviews, but I'm looking forward to reading it over the Xmas break.

Erin Lawless: Looking forward to Miranda Dickinson's Take A Look At Me Now.

Lynn Marie Hulsman: As a present, I want all the HI titles (and a magic pocket of time to read them at my leisure!) plus Bridget and Trisha Ashley's Wish Upon a Star.

Ella Griffin: Being read a story is one of the best pleasures of childhood and I still love it. So, if you're listening Santa, I'd like an audio book of Gone Girl by Gillian Flynn.

Isabelle Grey: In my Christmas stocking I'd like to find Apple Tree Yard by Louise Doughty.

Laura Kemp: I would love to unwrap The Flea Palace by Elif Shafak - I loved her books Honour, The Bastard of Istanbul and The Forty Rules of Love but I haven't got round to The Flea Palace yet. Her writing transports the reader to Istanbul, one of my favourite cities, and beyond and her story telling about family life is utterly beautiful.

Tasmina Perry: I've already downloads lots of stuff onto my Kindle in preparation for bedding down in front of a roaring fire! I've bought the new Bridget Jones, The Twins by Saskia Sarginson, Tigers in Red Weather by Liza Klaussmann, Sister, Mother, Husband, Dog by Delia Ephron and In My Shoes, the new Tamara Mellon memoir. My husband always gets me books as stocking fillers and usually picks well so I trust him to find something good! Last year I got Joan Didion's Play it as it Lays (brilliant) and Rupert Everett's Hello darling are you working? (hilarious.) I am also looking forward to the new Jo Jo Moyes but I don't think that is out until early next year.

Joanna Bolouri: I've been hearing fantastic things about the author Victoria Fox and would love to curl up with Hollywood Sinners this Christmas.

Amanda Prowse: I have already requested new novel Bittersweet by the brilliant Colleen McCullough - The Thornbirds is one of my all-time favourites and so can't wait to read this story set in 1920s!

Emma Burstall: Bridget Jones: Mad About The Boy please! I adored her other books, and the films, too. I can't wait to read how Bridget is coping with being the ripe old age of 51 and juggling children and a toyboy. I also want to read Donna Tartt's The Goldfinch, because I've heard it's brilliant and I loved The Secret History and The Little Friend. Oh, and I still haven't got my hands on JoJo Moyes' The Girl You Left Behind. Me Before You is one of my favourite books of all time - so I'll have The Girl You Left Behind in my stocking as well. Thank you Father Christmas!

Jane Lythell: I would be delighted to find a copy of Women's Work: 100 Short Stories written by Women sticking out of the top of my Christmas stocking. This is a glorious 800-page cornucopia of short stories selected by Victoria Hislop. She's got great taste and has included stories from some of my favourite writers Margaret Atwood, Daphne du Maurier and Ali Smith. It would be perfect to curl up with this book over the Christmas break.

Clare Dowling: I really want to know what's been happening to Bridget Jones, so I'm hoping that someone will give me Mad About The Boy. I've heard the nasty rumours about Mark Darcy, but I'm refusing to believe anything until I read it! I'm popping a bottle of chardonnay into the fridge now in anticipation of a good read.

Brigid Coady: For Christmas I want to have an unlimited budget to buy any book that takes my fancy through the year.


Check out part one here, where more authors share their wish list.
---
---