TIS THE SEASON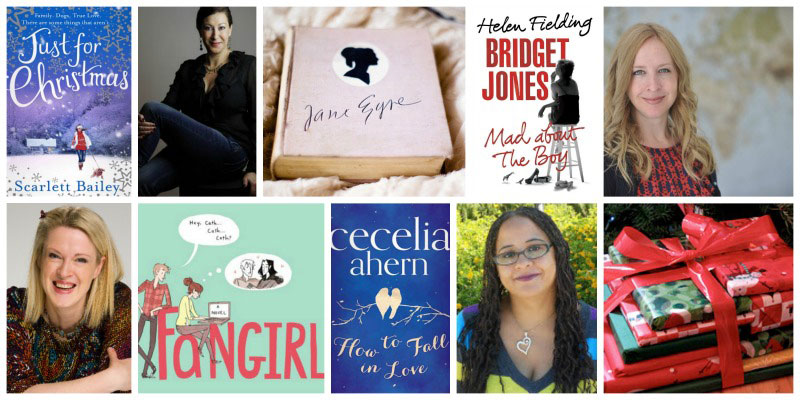 In this two-part series, your favourite authors reveal which women's fiction book they are hoping to find in their stocking on Christmas Day 2013. (Compiled by Jade Craddock)
Rebecca Chance: Class Reunion by Rona Jaffe. She wrote The Best Of Everything, a groundbreaking bestseller about four young women in the fifties going to New York to find success and love - I couldn't put it down! It's amazingly honest about sex and relationships and what women do for love and she's a brilliant storyteller. Class Reunion is about four women from very different backgrounds who were at college together and meet at a reunion years later - I can't wait to read it.

Kate Harrison: I'd really love anything by Liane Moriarty - I was bowled over by The Husband's Secret after reading an advance copy in the summer, and am so thrilled to see such an intelligent, incisively written novel flying up the charts. I now want to read all her previous books!

Dani Atkins: Somewhere along the way, I have managed to convince myself that it is impossible for me to read a book in a similar genre while I am writing one of my own. This means that when I'm in the middle of a project, I am continually compiling and revising my wish list of books that are waiting for me when I cross the finishing line. However, wherever I am in my current project, I have promised myself a true Christmas break, and will finally allow myself to delve into the books that have been patiently waiting for me. The list, in no particular order of preference, includes Paige Toon (One Perfect Summer and One Perfect Christmas), Lindsey Kelk (I Heart Christmas), Liane Moriaty (What Alice Forgot), Sophie Kinsella (Wedding Night) and Helen Fielding (Bridget Jones: Mad About The Boy). I think I'm going to need a bigger stocking!

Hilary Boyd: Will Hilary Mantel's third book in her Cromwell trilogy be out by then? I'd love that. I know it's not classed as 'women's fiction', but it is by a woman!

Romy Sommer: There are so many great new titles from Harper Impulse that I haven't yet read, so rather than more books in my stocking what I'd really like for Christmas is some quiet time to sit down and read them all!

Trisha Ashley: I always have one special new book saved up to read over Christmas, once the house is clean, decorated and redolent with a heady mix of spices, pine needles and expectation. This year the book I'd like to find in my stocking is The Winter Ghosts by Kate Mosse.

Polly James: I don't read fiction when I'm writing, in case I steal someone else's idea by accident, so my 'to read' pile has now grown so high that it's taller than me - which isn't that tall, but even so, I probably shouldn't ask for any more books until I've rendered the pile less hazardous to passing children and animals by reading some of those I already own. I might get sued for negligence if there's a collapse, so you'd better keep the next bit quiet. I am going to pretend not to want any books for Christmas, while still hoping to find a copy of Helen Fielding's Mad About the Boy in my stocking. This modest hope is highly likely to be rewarded as I am the person in charge of stocking filling in my household (under the watchful eye of Santa, if any children are reading this and wondering where he comes in). So, once I've pretended to be astonished and delighted to find the book I bought and wrapped a little earlier, and then sneaked into my stocking when I wasn't looking, I can then settle down to finding out what's happened to Bridget Jones over the last ten years. Despite the mixed reviews the book seems to be getting, I can't wait. Helen Fielding's such a brilliant writer that I'm bound to find Bridget's latest adventures much, much funnier than I've ever been known to find my family on Christmas Day - or, indeed, than they've ever been known to find me. I therefore recommend this strategy to everyone with warring teenagers, and/or an excess of parents who used to be married to one another.

Adriana Trigiani: I am going to reread Jane Eyre by Charlotte Bronte.

Teresa Morgan: Just because I've read the other two, I would love Bridget Jones: Mad About the Boy by Helen Fielding... because I'm curious.

Cally Taylor: I'd love a copy of Just for Christmas by Scarlett Bailey. I adored her last two Christmas books and just know the next one will be as magical and romantic.

Monica Murphy: There is an advantage to being an author...you have author friends who let you read their books early. So, with that being said, there are always still a few books I would love to have in my stocking. Pretty much every holiday-themed romance you can think of that's new this year? I want. I'm such an addict, it's almost pathetic. But in a good way right? Plus, I'm intrigued by the book After I Left You by Alison Mercer. I would love to see it appear in my stocking as well.

Lorraine Wilson: Christmas at the Cupcake Cafe by Jenny Colgan.

Sarah Webb: I'd love the new Clare Dowling paperback in my stocking for Christmas. It's called Can't Take My Eyes Off You. I love the way she writes - her dialogue is amazingly real and accurate. She also as a script writer on Fair City (Ireland's top soap) and I'm sure her dialogue sings in that too. Here's the blurb: Clara's been away for too long. So, after ten great years in London, and with boyfriend Matthew in tow, she arrives home in small-town Castlemoy. The family welcomes her with open arms: her diet-shy mother, her closet-living sister and her actor brother who scratches a living doing voice over ads for chicken. Not everyone is delighted to see her, though. Jason, her long-ago ex, seems to have old scores to settle. Soon Clara finds herself being watched, followed and manipulated from afar. How can she make him stop? And as Clara's dreams of happily-ever-after begin to shatter, will she be able to wrestle her life back? Sounds fantastic, doesn't it? Perfect for curling up with over Christmas!

Zara Stoneley: I would love to find Fiona Walker's The Summer Wedding in my stocking, it might be the perfect beach read but with all the Christmas excesses it sounds the perfect antidote/escapism!

Nyrae Dawn: Three Broken Promises by Monica Murphy. I love her stuff!

Kim Izzo: Longbourn by Jo Baker, naturally. And what chick lit stocking is complete without Mad About the Boy by Helen Fielding?

Sophie Ranald: I'm going to have to say The Goldfinch by Donna Tartt. It's had mixed reviews but I loved The Secret History so much I can't not read it, and I love having a properly long novel to curl up with at Christmas while I lay waste to the mince pies. It's a chunky old book though - just as well I have big feet.

Jane Linfoot: After the Harper Impulse titles I'd like Where'd You Go, Bernadette by Maria Semple, because it sounds wonderfully, wildly unpredictable and funny. I'd also like Tracey Bloom's Single Woman Seeks Revenge, because No-one Ever Has Sex On A Tuesday was a complete riot - I loved it. Oh and Mad About the Boy too. One book is never enough.

Mandy Baggot: Lady B has no favourites! I'll take any women's fiction! I get excited by new authors, well-known authors, just great stories!

Fiona Gibson: I'd love The House We Grew Up In by Lisa Jewell in my stocking this Christmas. I've read all of her books (except this one!) and am always swept along by her fab, utterly believable characters and warm, pacy style. Lisa is one of my favourites.

J.A. Redmerski: I'm hoping for the rest of Sophie Jordan's New Adult books to somehow mysteriously appear in my stocking. Wondering if Santa can make that happen...

Aimee Duffy: Revelry by Lucy Lord.

Paige Toon: Bridget Jones: Mad About The Boy. Bridget Jones's Diary was one of my favourite books when it came out - I loved the movie, too. Wasn't as keen on the sequel and I'm not sure what I'm going to think about this latest instalment - I've heard Bridget is much older and there's no Mark Darcy - but I'm still going to read, and probably love, it. I will have just finished writing my next chick-lit novel and I'm spending Christmas in Australia with my family, so hopefully I'll have time to put my feet up and read. I can't wait!.

Taylor Jenkins Reid: I've heard such good things about Suzanne Redfearn's Hush Little Baby that I can't wait to get my hands on it. Seems like exactly the sort of book to pick up at night on Christmas and not put down until you've finished.

Jane Lark: I am waiting for Rome: A Marked Man novel by Jay Crownover - along with the next from Gaelen Foley's Inferno Club historical spy series. I have a duel personality And in my writing that duality continues.

Katie Cotugno: I think I'm the only YA fan on the internet who hasn't read (and loved!) Rainbow Rowell's Fangirl. I've heard such amazing things, and fandom and fanfiction are topics that are super close to my heart. Can't wait to curl up with this one, preferably in my slippers near the Christmas tree with a mug of something hot.

Linda Green: The Flavours of Love by Dorothy Koomson - My Quercus stable-mate Dorothy's books just keep getting better. Expertly woven stories about very real female characters with real strengths and flaws. She manages to tackle some hard-hitting subjects but keeps it very human. I know her latest offering The Flavours of Love will not disappoint.

Nicola Jane: I'd like to reread The Story of O, although I'm not sure it would be appropriate to ask Santa to bring it! I read it ten years ago and I wonder if it would have such a nicely disturbing effect now.

Veronica Henry: I'd like Not Without You, by Harriet Evans. I adore Harriet's writing, and this looks perfect to curl up with over Christmas, with its glamorous 50s Hollywood setting mixed with the present day. Escapist and compelling.

J Courtney Sullivan: I'm a huge Ann Patchett fan. I've already read a few of the essays in her collection, This Is The Story Of A Happy Marriage. (How great is that title?) I can't wait to read the rest. I'm also looking forward to the new Donna Tartt, though I may need a bigger stocking for that one, as it's almost 800 pages long.

Lori Nelson Spielman: Oh, it's so hard to pick just one! I've been dying to read Where'd You Go, Bernadette by Maria Semple, and would be thrilled to find it in my stocking!

Alyssa Goodnight: I'm hoping for Cecelia Ahern's How to Fall in Love in my Christmas stocking this year (although I'm not even sure it's out in the US yet!) I love Ms Ahern's books - they are so unique and heartfelt. I can definitely see myself curled up under a cozy throw with a cup of hot chocolate and this book! And I've been good this year! Happy Holidays to everyone at Chicklit Club and readers everywhere!


Watch out for part two, when more authors share their wish list.
---
---