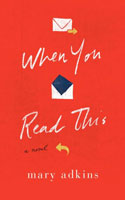 When You Read This - Mary Adkins (2019)
When 33-year-old Iris is diagnosed with cancer, she begins to write a blog, tackling the big questions of life and death. After her passing, Iris' boss, Smith, is left to deal with Iris' final request: to get the blog published. There's just the small matter of getting her sister, Jade, on board. Communicating electronically, relative strangers Smith and Jade face up to life without Iris, their own spiralling lives and the all-important matter of Iris' blog.
For a book whose starting point is the terminal diagnosis of one of its characters, the novel is surprisingly neither morbid nor overly sentimental, in a way that a lot of such narratives are. In fact, rather than turning you into a blubbering mess, it's more likely to make you snigger, most likely at Smith's overenthusiastic intern, Carl. Iris' blog posts are relatively sporadic and veer towards the philosophical rather than the emotional, and in the brief moments of real emotion in the novel, they never become overwhelming, the author choosing to move on rather than reach the brink, such that the book doesn't leave you reeling.
Much of the effect and tone of this novel is established by the medium through which it is written, namely emails, of all varieties, between various correspondents, and I think this format will divide readers. To my mind, it offered a surprising and welcome breath of fresh air, if at times the story felt a bit secondary because the emails only allow a limited framework. (JC)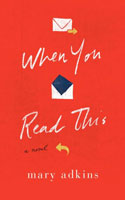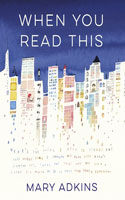 When You Read This, the epistolary novel by debut author Mary Adkins, is an account of love, life - and all the emails you really wish you'd never sent.
The summary says: "Iris Massey is gone. But she's left something behind.
For four years, Iris Massey worked side by side with PR maven Smith Simonyi, helping clients perfect their brands. But Iris has died, taken by terminal illness at only thirty-three.
Adrift without his friend and colleague, Smith is surprised to discover that in her last six months, Iris created a blog filled with sharp and often funny musings on the end of a life not quite fulfilled. She also made one final request: for Smith to get her posts published as a book.
With the help of his charmingly eager, if overbearingly forthright, new intern Carl, Smith tackles the task of fulfilling Iris' last wish. Before he can do so, though, he must get the approval of Iris' big sister Jade, an haute cuisine chef who's been knocked sideways by her loss. Each carrying their own baggage, Smith and Jade end up on a collision course with their own unresolved pasts and with each other.
Told in a series of e-mails, blog posts, online therapy submissions, text messages, legal correspondence, home-rental bookings, and other snippets of our virtual lives, When You Read This candidly reveals how we find new beginnings after loss." When You Read This is out in February 2019.