MARY ADKINS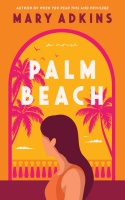 Palm Beach (2021)
Journalist Rebecca is married to Mickey, who works in catering between acting jobs. As he loses his voice, dashing his musical theatre dreams, Mickey gets headhunted to work for a wealthy businessman in Florida so the family pack up and leave New York. He then gets hired by an even richer man, Cecil Stone, to be estate manager and Rebecca – known for her reports on social inequality – is hired as ghostwriter of the wife Astrid's memoirs.
Used to struggling financially and juggling the care of their baby son, Rebecca and Mickey are exposed to a world of privilege and opulent wealth where the rich get whatever they want. But then their benefactors come to their rescue in a way they could never repay.
This was an interesting read but I didn't really like any of the characters and I wish the blurb gave away less information than it did.

---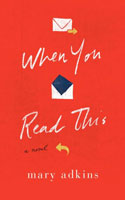 When You Read This (2019)
When 33-year-old Iris is diagnosed with cancer, she begins to write a blog, tackling the big questions of life and death. After her passing, Iris' boss, Smith, is left to deal with Iris' final request: to get the blog published. There's just the small matter of getting her sister, Jade, on board. Communicating electronically, relative strangers Smith and Jade face up to life without Iris, their own spiralling lives and the all-important matter of Iris' blog.
For a book whose starting point is the terminal diagnosis of one of its characters, the novel is surprisingly neither morbid nor overly sentimental, in a way that a lot of such narratives are. In fact, rather than turning you into a blubbering mess, it's more likely to make you snigger, most likely at Smith's overenthusiastic intern, Carl. Iris' blog posts are relatively sporadic and veer towards the philosophical rather than the emotional, and in the brief moments of real emotion in the novel, they never become overwhelming, the author choosing to move on rather than reach the brink, such that the book doesn't leave you reeling.
Much of the effect and tone of this novel is established by the medium through which it is written, namely emails, of all varieties, between various correspondents, and I think this format will divide readers. To my mind, it offered a surprising and welcome breath of fresh air, if at times the story felt a bit secondary because the emails only allow a limited framework. (JC)