NEW RELEASE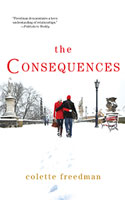 Following on from The Affair, this sequel tells the story of what happens after the end of an affair - from the perspectives of first the mistress, Stephanie; then the husband Robert; and finally the wife Kathy. The scene is set one snowy Christmas, when Kathy turns up on Stephanie's doorstep, having discovered her husband's betrayal. After the confrontation, Stephanie tells her lover to stay with his wife. Will he? And can Kathy ever trust him again? The three narrators generally go over the same scenes, which allows readers to see how each reacts to events. It is a hard narrative to pull off -but ultimately Freedman does - although the repetition of dialogue meant I often skipped passages. Overall it's the sort of book that will keep you up well past your bedtime, with a satisfying ending. Even though it's a sequel, it works as a stand-alone too (I hadn't read the first novel).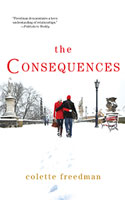 In Colette Freedman's sequel to The Affair, The Consequences explores the aftermath of infidelity from the perspectives of the husband, wife and mistress. The summary says: "The end of an affair may be only the beginning. . . Over the course of one tumultuous Christmas Eve, Kathy Walker confirmed her suspicions about her husband's affair, confronted his mistress, Stephanie, and saved her marriage. She and Robert have eighteen years, two teenagers, and a film production business between them - plus a bond that Kathy has no intention of giving up on. Yet though Robert is contrite, Kathy can't quite silence her doubts. While Robert reels from his wife's ultimatum and his mistress' rejection, Stephanie makes a discovery: she's pregnant. Her resolve to stay away from Robert wavers now that they could make a real family together. And in the days that follow, Stephanie, Robert and Kathy must each reckon with the intricate realities of desire, the repercussions of betrayal, and the secrets that, once revealed, ripple through lives and relationships in thoroughly unexpected ways." The Consequences is out in January 2014.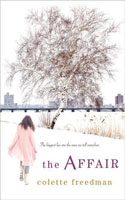 The biggest lies are the ones we tell ourselves ... Kathy and Robert have been married for eighteen years, have two children and seem to be living a happy life. That is until Kathy finds a number on Robert's phone that brings back past memories that throw her future into jeopardy. Kathy must decide whether to trust her instincts or the man she lies next to in bed at night. Told through three stories, The Wife, The Husband and The Mistress, we discover the motivations behind an affair and begin to delve deeper into what it really means to be in love. This book will have you questioning what you would do for love whilst cleverly making you feel for each character in turn, leaving you questioning where your allegiance lies. An astonishingly good read. (LL)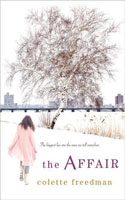 Playwright Colette Freedman's novel The Affair is about whether a woman will confront her husband with her suspicions. The summary says: "After eighteen years of marriage, Kathy Walker has settled into a pattern of comfortable routines - ferrying her two teenagers between soccer practice and piano lessons, running a film production business with her husband, Robert, and taking care of the beautiful Boston home they share. Then one day, Kathy discovers a suspicious number on her husband's phone. Six years before, Kathy accused Robert of infidelity - a charge he vehemently denied - and almost destroyed their marriage in the process. Now Kathy must decide whether to follow her suspicions at the risk of losing everything, or trust the man with whom she's entwined her past, present, and future. As she grapples with that choice, she is confronted with surprising truths not just about her relationship, but about her friends, family, and her own motivations."
---
---