SUZY DUFFY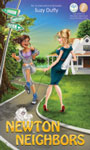 Newton Neighbors (2013)
This story revolves around Crystal Lake Lane in a desirable Boston neighbourhood. Puerto Rican bombshell Maria thinks she's losing her mojo - so feels even more deflated when her husband Ricky openly admires the gorgeous new babysitter, Jessica. Jessica, who is over from England to study for a masters in psychology, just wants to concentrate on getting good grades. But all her rich and spoilt room-mate Ely wants to do is party. Maria's social-climbing friend, Cathi, is desperate to move into a house on the lakeside of Maria's street and is willing to go to drastic lengths to get there. From fire dramas to parties gone wrong, from amorous dogs to a wise old neighbour, this is one rollicking read - very enjoyable.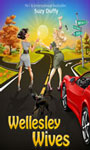 Wellesley Wives (2012)
Boston society wife Popsy Power lives in Wellesley, where the women have less body fat and higher net worth than the average American woman. Her husband, Peter, has just splashed out on a red Ferrari for her birthday but all is not well with his business. Will he and his partner Jack succeed at a last-ditch effort to seal a big deal? Jack is married to Popsy's best friend Sandra, a second wife who had promised she didn't want children but is now desperate for a baby. Popsy's two daughters have their own problems - Lily can't admit to her family about the real love of her life while Rosie is shocked when her pilot husband Marcus announces he wants them to go to a resort for swingers. This is an entertaining story about life not being as glossy as it seems and reinforces the bonds of friendship as the two Wellesley wives take a trip to Ireland.

---
---