SOPHIE LEE
Sophie Lee is an Australian actress, who has starred in several successful movies, including The Castle and Muriel's Wedding.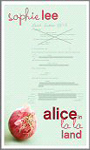 Alice in La La Land (2007)
Australian actress Alice Evans flees to Hollywood to escape a broken relationship and a big debt. But it doesn't prove to be her city of dreams - she lives in a cat-infested apartment and spends her days navigating the city in a Daewoo rental, lurching from one audition to another. After a promising start to her first audition, Alice finds she can't win a role and as her past in Australia is slowly revealed, it becomes apparent why she needs to make it so badly. Then she meets an Irishman called Nick, who opens her eyes to new possibilities.

---
---