SOPHIE KING
This is the pseudonym of journalist Jane Bidder.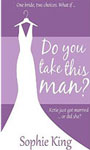 Do You Take This Man? (2014)
Katie is young and in love and about to marry her boyfriend Alec. They haven't been together for long but marrying Alec feels like the right thing to do to Katie... Or doesn't it? As Katie is sitting in the wedding car on the way to the church, she suddenly finds her hand on the door handle and she has to make a crucial decision that will alter the course of her entire life: should she stay and marry Alec, or should she run away from it all and start over? The reader gets the chance to see what will happen to Katie in both of these scenarios in the form of two separate realities, both starring Katie and the decisions she makes that affect her life in all kinds of different ways; ways that show that some things happen because of one simple choice and some things are simply meant to be.
This novel immediately reminded me of Ali Harris' Written in the Stars. While the basic plotline of both novels is similar, Sophie King decided to take things a bit further by describing about twenty years of Katie's life; quite a long period in which the reader gets to see what happens to Katie after she made that one important decision: to get married to Alec or not. I was really intrigued by the concept and by Katie's two different realities. Katie is a relatable heroine, especially since I think every single one of us occassionally wonders 'what if...' and in this novel the reader actually gets the chance to experience this 'what if'. I really liked how the author made certain elements come back in both realities, but also adding big differences, showing that some things are meant to be but some things happen because of small decisions that might seem irrelevant. King provides the reader with a captivating storyline with a convincing cast of both main and secondary characters at its core. While I personally do not think this is one of her best works, it's definitely something new, enjoyable and worth a read. It is a well-written, entertaining and thought-provoking read that will make you think twice about the 'what-if's' in your life. (JoH)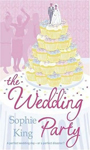 The Wedding Party (2009)
Becky has a hectic life as a mother of two who works on a women's magazine. With her nanny threatening to quit, her husband always away on work trips, the last thing she needs right now is her father Geoff deciding to get remarried. Becky's mother Helen has been divorced from Geoff for years, and despite keeping busy through her gardening business, his decision to remarry still tugs at her heartstrings. Two other people caught up in the wedding preparations include Becky's wedding planner friend, Janie, whose dyslexia makes it difficult for her to get the details right, and vicar Mel, who has to deal with her own family crises. And it seems they all have to contend with a very demanding first-time bride, Monique.
Told from the viewpoints of the multiple characters, this is an entertaining read that alternates well between its dramatic and light-hearted moments.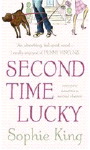 Second Time Lucky (2007)
Bridgewater House used to be a grand country house but over the years it has been converted into several separate apartments, housing different kinds of characters. Louise used to be a happily married woman, until her husband left her for his mistress. She's now a single mum with no job and three children to take care of, and forced to move from a large mansion to a small apartment. Roddy used to be the heir to Bridgewater House but is now a recovering alcoholic trying to do everything in his power to be able to see his two kids, whom he loves more than anything in the world. Then there's Molly, who used to be a famous actress and has just lost her beloved husband Gideon. However, she's still able to see him and can't stand the thought of being left alone. Last but not least, there's Marcie, an American PhD student, who has turned her dream of marrying a true English gentleman into reality by marrying businessman David. Yet, her two awful stepchildren weren't part of her perfect picture and neither were their problems to have a baby together. All the residents of Bridgewater House have their own secrets but nothing can stay hidden for long from your neighbours.
One of the things I really love about Sophie King's novels is her ability to create a truly fascinating and entertaining group of various characters who are all dealing with their own personal secrets and desires. This not only provides the reader with several interesting storylines to enjoy but it also results in the novel dealing with numerous issues which I am sure most readers will be able to relate to. It's an easy-to-read, enjoyable and lovely read. (JoH)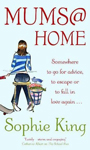 Mums@Home (2006)
This is the story of four people who are connected through a website for mothers. Magazine journalist Caroline (who logs on as Part Time Mum) has three children, including a daughter who is spending her gap year travelling overseas. She is wondering if she can ever forgive husband Roger for his affair. Mark (who joins the website under the pseudonym Mimi) is looking for support as he works from home as a public relations consultant while his wife is away. Susan (Rainbow) has a daughter with cerebral palsy and for once in her life just wants everyone to treat her as normal. When her ex Josh returns, married to a nurse and wanting to spend more time with Tabitha, she doesn't realise at the time that it'll give her the chance to find herself again. And Lisa (Expectent Mother) is a young child-care worker from a bad background who is desperate for her own baby.
A well-woven tale with engaging characters and several twists to keep you reading.

---
Also by author:


The Perfect Proposal



Divorce for Beginners



The Supper Club



The School Run

---