SHARON OWENS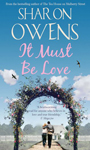 It Must Be Love (2008)
Photographer Sarah is all set to marry her older fiance, lord of a Scottish manor Mackenzie, on Christmas Eve. But when she overhears him talking about his late wife, she realises she can't go through with the wedding. Taking off in the middle of the night, Sarah heads to Redstone, a village on the Irish west coast where her parents once lived. There she gets caught up in the troubled lives of her new friends Miriam, Gemma and Aurora and even falls for a new man Ethan, who has his own shameful past. A heartwarming tale which contrasts nicely with its wintery setting.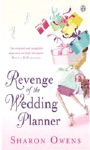 Revenge of the Wedding Planner (2007)
aka The Trouble with Weddings
Mags Grimsdale finds it difficult to say no to people. As a result she is looking after a Belfast wedding planning business while her boss Julie takes off with a young stud, Jay. She's also left to organise her dad's send-off and set up a home within her home for one of her sons, Alexander, and his anorexic girlfriend Emma. And while juggling these mini crises, Dream Weddings is dealing with its biggest clients to date - an ageing rock star and his model girlfriend - and they want the works: fireworks and ice sculptures, castles and bats. Don't let the title mislead you, this is more about the characters and less about wedding hi-jinks.

---
Also by author:


A Winter's Wedding



The Tavern on
Maple Street



The Ballroom on
Magnolia Street



The Tea House on
Mulberry Street
---