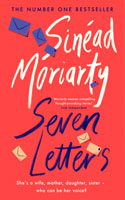 Seven Letters, by Sinead Moriarty, is about a family having to make a decision in difficult circumstances.
The summary says: "Sarah loves being a mother - it defines her.
Every year she writes a birthday letter of love to her adored daughter, Izzy, now seven. And after she falls pregnant, she promises Izzy that the arrival of a baby brother will make their family complete. So when she collapses a few months later, the safe happy life Izzy knows is shattered.
With Sarah's future, and the future of her pregnancy, in their hands, her husband and sister disagree fiercely about her treatment. The once close family starts to fall apart.
The clock is ticking, and the doctors need a decision. Can those who love Sarah get beyond the fog of grief and anger to figure out what's for the best? Can they ever forgive each other for the decisions they make? Will Izzy lose everything she knows and loves?" Seven Letters is out in May 2019.
TEXT