SINEAD MORIARTY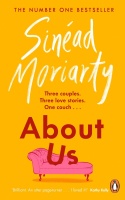 About Us (2021)
Ann is feeling restless as her husband Ken nears retirement. She gave her all to their two children and now they have left home, she is left wondering about her next stage of life.
Stay-at-home mum Alice is exhausted from running around after her four young children and is resentful of the time her husband Niall spends at work and not helping out.
Teacher Orla has become interested in a student's father but is worried that she can't hold on to a man.
The three storylines are tied together by their sessions with a therapist. It makes for an emotionally fulfilling read as the author explores the inner workings of the relationships and their issues around communication, expectations and intimacy.

---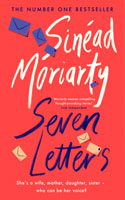 Seven Letters (2019)
For years, Sarah has wanted another baby to give her much-loved seven-year-old daughter, Izzy, a sibling. And now she finally is pregnant, thank goodness. But not long after her first scan reveals she is having a boy, Sarah collapses at home, leaving her family with a tough decision to make.
Much of this story is told from the viewpoint of Mia, Sarah's older sister, who has so much on her plate through her work as a deputy principal, her fraught relationship with her teen daughter, as well as supporting her out-of-work husband. And now she believes she has to act as her sister's voice.
This heart-shattering story will put you through the emotional ringer as the characters face a major moral dilemma. It's a really moving book - the only thing: those seven letters of the title don't really play much of a role.

---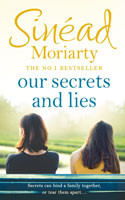 Our Secrets and Lies (2018)
Top student Lucy is nearing her final year of university when she finds out she's pregnant to her boyfriend Tom. Whatever she decides now will affect her promising law career. Tom's well-to-do father is furious at the news and ensures that Lucy is left to deal with the situation alone.
Part two opens with Lucy's twins, now 17, having been accepted into the same prestigious school that Tom attended. Lucy has done everything in her power to ensure her kids succeed, to prove she's done a fine job raising them on her own. But things are about to go awry ...
With an emphasis on Irish family ties, this is an engaging and heartfelt read about a determined single mum whose thwarted ambition may have consequences for the next generation.

---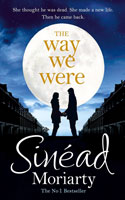 The Way We Were (2015)
Ben and Alice have a good steady life. Alice is a GP and juggles her work around her two daughters, Jools and Holly. Ben is a surgeon, and at forty-five seems to have hit a midlife crisis of sorts. He is eager for more excitement in his life, and jumps at the chance to go to Eritrea on a humanitarian trip despite Alice's protests. When the trip ends disastrously, Alice is left to pick up the pieces of her life and help her daughters struggle through life without a father, while Ben is desperate to get home to them all. But when they are finally reunited, things don't quite go back to the way they were before.
I found it was easy to empathise with Alice, especially when she felt that Ben wasn't taking on his responsibilities as he should be. And then when he left without her blessing I really felt for her, she came across as stressed already and I didn't warm to Ben's character at all in the beginning. The change in his character throughout his ordeal is obvious, and my opinion of him did change which is always a plus for me when reading a book.
I particularly liked Jools, the bolshy teenage daughter. Her mispronunciations and grammatical errors made me laugh and injected some much-needed humour into some tense situations. I found Alice's gay brother a bit of a caricature, in some ways he was very cliche but he did add to the story, as did Nora the Irish housekeeper. The plot was nicely paced, and I was kept guessing right to the end as to what Alice would choose to do with her future. A great read from Moriarty. (LO)

---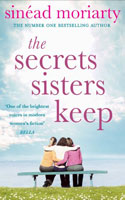 The Secrets Sisters Keep (2014)
The Devlin sisters have very different lives. Julie has four young kids, and has just inherited a lot of money. Rather than making her life easier, suddenly her husband is too busy to take an interest in family life. Louise is a strong single mum to gifted four-year-old Clara. But when it's pointed out to her that Clara may be a little bit different, her life takes a turn she wasn't expecting. Sophie is also a single mum to nine-year-old Jess, and is struggling to come to terms with her ex having a new girlfriend. She is lonely and desperate to carve out a new life for herself.
I had not read the first book Me and My Sisters, so this was my first time encountering the Devlin sisters. This book, I felt, was full of cliches. The sisters were very stereotypical, and the fact that at first they had little in common but then by the end they are best of friends and united by their struggles was quite predictable and overdone. I did like Julie though. She was relatable, a bored housewife overwhelmed by her children and feeling out of place at the school gates.
Sophie was pretty annoying and shallow, focusing constantly on how she looked and equating physical attractiveness with happiness. Louise was an admirably strong lady, but cold and difficult to like. There were some redeeming secondary characters such as their brother Gavin, and Julie's friend, Marion. This was quite an easy read but also easily forgettable. (LO)

---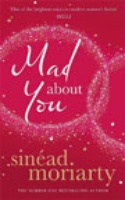 Mad About You (2013)
This tells the latest story of Emma and James, the main characters in Sinead Moriarty's first three books, The Baby Trail, A Perfect Match and From Here to Maternity. Emma and James have just moved from Dublin to London for James' job as a rugby coach, with their two young children. Emma is apprehensive about the impact the change may have on their lives. However, her worst fears about what might lie ahead don't include what actually does. Within weeks of moving, James starts receiving sex-texts from an unknown number. He presumes it's one of the players he coaches, pulling his leg. The texts continue and then sex toys start arriving at the house, addressed to Emma. Soon, threatening texts are being sent to Emma's phone.
James vehemently denies that he is having an affair. Emma wants to believe him but she's aware that with their busy work schedules, their marriage has become stale and she begins to wonder if he really is cheating on her - and it's not long before their marriage starts to fall apart under the strain and suspicion. Should Emma trust her husband? Is he cheating on her, or is he really the victim of an obsessed stalker? Will Emma figure out who it is in time to save her marriage?
Mad About You has a huge readability factor, enhanced by a sub-plot involving Emma's irrepressible sister Babs. Interesting themes are explored in the book - trust within a marriage, how women as the family breadwinner in a demanding job affects home life, one partner wanting a second child when the other doesn't and the impact of this on a marriage, and many others. Although I was disappointed that the ending wasn't more unpredictable, the characters, the humour and the themes explored made up for that and it was still a fantastic read overall. (SBB)

---
---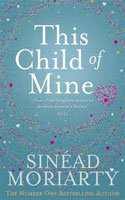 This Child of Mine (2012)
Anna teaches disadvantaged children and what she wants most is to have a child of her own. Now nearly two decades later she is the devoted mother of Sophie, who is about to head off to art college. Laura is only a teenager when she discovers she's about to become a mother and she's having trouble coming to terms with missing out on what her carefree friends are up to. Now she is a talented artist and keeps a tight rein on feisty daughter Mandy. But a chance encounter opens the window on what happened when Anna and Laura's paths crossed all those years ago.
This is an absolutely fabulous read. While some may nitpick about the probability of events unfolding as they do, Moriarty does offer explanations that cover all the plot developments. She also relates the stories of both mothers well, so each can be empathised with. There are also some great minor characters, such as the outspoken children at Anna's school and the all-too-honest WAG.

---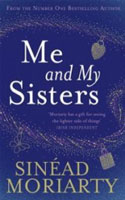 Me and My Sisters (2011)
The story revolves around the four grown-up Devlin children, mainly focusing on the three older sisters, Louise, Julie and Sophie, each affected by different issues. Louise is the oldest and most successful of the Devlin offspring. But the lawyer's goal-oriented personality and independent nature makes it harder for the rest of the family to connect with her. Julie is an exhausted mother of four young boys, who struggles with their daily "out of control" behaviours and outsiders' criticism of her poor parenting skills. Sophie has the perfect life laid out in front of her but yearns for something more. This is a funny, perceptive take on the conflicts and dynamics of families. (XT)

---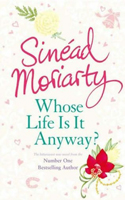 Whose Life Is It Anyway? (2008)
aka Keeping It In The Family
Niamh (pronounced Neev) O'Flaherty grew up in a proud Irish household in London - where the garden gnomes are leprechauns, the doorbell rings out Danny Boy and Irish dancing lessons are compulsory. When she becomes the first family member to get into university, she goes to Dublin where it was hoped she'd meet a nice Irish lad. So when she falls for Pierre, she knows her family are not going to be happy. Not only is he older, French, non-Catholic - he's also black.
And Pierre, a professor, knows that his own cultured parents will need a bit of time to get used to his tabloid columnist girlfriend, especially since they're going to get married immediately and head to Vancouver for his job.
With hilarious flashbacks to Niamh's childhood with her larger-than-life family members, it won't be just Irish eyes that'll be smiling.

---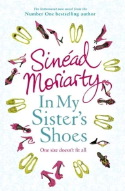 In My Sister's Shoes (2007)
Kate O'Brien has just landed her dream TV presenting job in London when her older sister, Fiona, finds out she has breast cancer. Kate owes her sister big time since Fiona selflessly brought her and brother Derek up after their mother died of the same disease. So Kate heads back to Dublin to step into her sister's shoes and look after her boisterous five-year-old twin boys.

---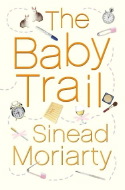 The Baby Trail (2005)
Thirty-three-year-old make-up artist Emma Hamilton decides it's time for her and husband James to start a family. But after months of post-coital handstands, ovulation testing and fertility drugs, she's still not pregnant. With everyone from her doctor to her mother telling her to just relax, Emma finds her life is turning into a roller-coaster of emotions which is starting to alienate those closest to her.

---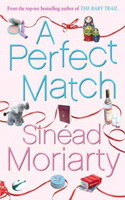 A Perfect Match (2005)
The sequel to The Baby Trail, this finds Emma Hamilton ready to adopt after an unsuccessful IVF attempt. But she is upset to discover there are no Irish babies waiting to be rescued, so she turns her attention to Russia and immerses herself in its culture. But between trying to prove that she and James would make perfect parents and cutting through all the red tape, Emma finds out that adoption is far from an instant solution.