REBECCA FARNWORTH
Also the ghostwriter of Katie Price's novels.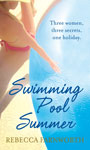 Swimming Pool Summer (2013)
Three long-time friends - Frankie, Leila and Tor - are off to stay at a villa on a Greek island but they are lugging a lot more baggage than the bags they put on the airport carousel. Frankie is secretly in love with smooth-talking journalist Patrick and can't wait to see him again. Tor finds out she's pregnant just before the trip. But with her partner, Ed, being so much younger, she wonders if she should be tying him down. And Leila, the hostess, is hoping to have some downtime and revive the intimacy in her marriage to Tom. And she prays no one finds out that she has had a regrettable fling. With a few unexpected guests turning up and secrets being revealed, it's not going to be all fun in the sun. With characters you'll empathise with and a gorgeous setting, this is definitely one to toss in your holiday bag.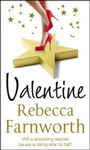 Valentine (2009)
Valentine Fleming dreams of making it big as an actress but after years of rejections and bit parts, her hopes and self-esteem are beginning to fade. With a stroke of luck, she lands a part in a play alongside sexy leading man Jack Hart and although things don't get off to a great start between them, there's certainly an instant attraction and it's not long before the two of them are an item. However, with Valentine's ex-boyfriend still in the picture, along with a couple of stalker ex-girlfriends of Jack's who just can't seem to let go, it's a rocky road to love. Just as things start to look up in both her professional and personal life, Valentine learns a shocking secret that threatens to turn her world upside down. With a strong lead character, a supporting cast made up of quirky yet lovable characters and a fantastic plot this is a must-read. (KC)

---
---