NEW RELEASE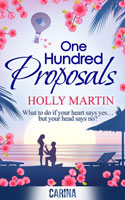 One Hundred Proposals - Holly Martin (2014)
Suzie runs the Perfect Proposals company with her best friend, Harry. They arrange unique and uber-romantic proposals for couples. When Harry embarks on a project to propose 100 times to Suzie as a way to boost business, the pair find themselves winging around the world, discovering spectacular and memorable locations as the proposals range from the amazing and emotional to the quirky and cheesy. But the trouble is neither realises the other wants to be more than friends. Suzie thinks that each time Harry proposes it's just a PR stunt, while Harry doesn't know how else he can show that he has fallen madly in love with her. This is a sweet story that focuses on the will-they-or-won't-they aspect of friends becoming much more. Perfect for the true romantic, it takes readers on a rollercoaster ride where hopes are raised then dashed. With such an impressively effortless writing style and absorbing plot, it's certainly obvious why Holly Martin is becoming a firm chick lit favourite.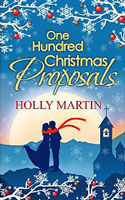 One Hundred Christmas Proposals - Holly Martin (2014)
Newly engaged Suzie and Harry run a business together creating the perfect marriage proposals for couples in need. In the month of December they hope to have one hundred Christmas proposals to feature on their blog, the grand finale being a proposal in Suzie's favourite spot on New Year's Eve. Suzie is putting her all into planning it, but this proposal isn't all that it seems! I loved Holly Martin's One Hundred Proposals so much that my expectations of this one were high. It didn't disappoint, it was great to delve back into Suzie and Harry's life and see how they had progressed after the last book. As a Christmas novella it definitely had a festive feel, and the proposals were as creative as ever. The plot was predictable, but still enjoyable and overall it was a quick, feel-good, holiday read. (LO)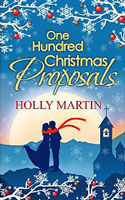 The nvoella, One Hundred Christmas Proposals, is the follow-up to Holly Martin's novel, One Hundred Proposals. The summary says: "If you thought Harry and Suzie's life couldn't get anymore sweepingly romantic than Harry asking her to marry him at the end of One Hundred Proposals - think again! It's Christmas in a snow-kissed London, and the.PerfectProposal.com have vowed to carry out one hundred proposals in December. No easy task at the best of times - made even more complicated by Harry and Suzie trying to plan their first Christmas and a visit from the dreaded in-laws. But one hundred deliciously Christmassy proposals later they find themselves asking if everything is still perfect in their own relationship...." Welcome back to the divinely warm world of One Hundred Proposals - with a sprinkling of pure, joyful, festive magic."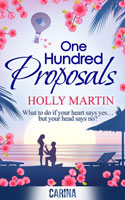 Holly Martin won the Sunlounger short story competition with One Hundred Proposals. Now developed into a novel, the summary says: "'Is there really such a thing as a perfect proposal? Over the next hundred days I intend to find out. I will find one hundred ways to propose to our Chief Proposer Suzie McKenzie and post the results here for your enjoyment. One thing's for sure, not one of my proposals will be on top of the Eiffel Tower with a dozen red roses.' Best friends Suzie and Harry are partners in romance. That is, they run the.PerfectProposal.com, coming to the aid of would-be grooms to create the ultimate marriage proposal. But when Harry decides to catapult the business into the big leagues with a PR stunt all Suzie can see is a hundred days of heartbreak stretching ahead of her. But however exotic the location, or breath-takingly romantic the setting, Suzie has to keep remembering that 'Marry Me?' is the one question she can't say yes to. This business proposal should come with one hundred broken heart warnings... One hundred proposals, one hundred chances to say yes."
---
---