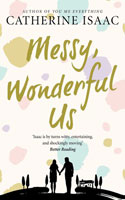 Catherine Isaac's latest novel, Messy, Wonderful Us, is about the transformative power of love.
The summary says: "You never know what life will throw at you. You just need to know who to turn to for help.
One morning in early summer, a man and woman wait to board a flight to Italy.
Allie has lived a careful, focused existence. But now she has unexpectedly taken leave from her job as an academic research scientist to fly to a place she only recently heard about in a letter. Her father, Joe, doesn't know the reason for her trip, and Allie can't bring herself to tell him that she's flying to Italy to unpick the truth about what her mother did all those years ago.
Beside her is her best friend since schooldays, Ed. He has just shocked everyone with a sudden separation from his wife, Julia. Allie hopes that a break will help him open up.
But the secrets that emerge as the sun beats down on Lake Garda and Liguria don't merely concern her family's tangled past. And the two friends are forced to confront questions about their own life-long relationship that are impossible to resolve." Messy, Wonderful Us is out in May 2019.
TEXT