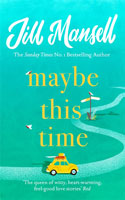 Maybe This Time by Jill Mansell, is a story of friendship, love, missed chances and seizing the moment.
The summary says: "When Mimi first visits her dad's new home in the Cotswolds, she falls in love with Goosebrook and the people who live there.
There's Paddy, with his flashing eyes and seductive charm. Friendly and funny Lois makes Mimi laugh. And seriously gorgeous Cal is welcoming and charismatic. Though Mimi loves her city life and her career, she'd be very happy to return to Goosebrook if it means seeing more of him.
Life is about to take some unexpected and shocking twists and turns. And Mimi's path and Cal's are set to cross again and again - but will it ever be the right time for both of them?" Maybe This Time is out in January 2019.
TEXT