MAGGIE MARR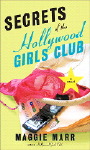 Secrets of the Hollywood Girls Club (2008)
The girls of the Hollywood Girls Club are back. Celeste is thinking it's time for a facelift while a sex tape - the one she thought was destroyed at the time of her divorce - seems to be making the rounds. And she's desperate to keep both secrets from her new husband, Worldwide Pictures boss Ted Robinoff. Mary Anne has started seeing hot leading man Holden Humphrey - a fact that infuriates his co-star Vieve. Jessica, now happily married with a baby son, is still promoting her list of clients. And Lydia is running the studio and receiving mysterious notes threatening to expose a big secret. Meanwhile publicist Kiki seems to know everyone's secrets - and is willing to use them to her own advantage.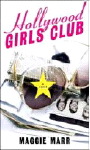 Hollywood Girls Club (2007)
Celeste Solange is a movie star whose film producer husband has not only taken off with a teenage actress - he's also given her the part that was meant to herald Celeste's comeback. Her powerful agent Jessica Caulfield recommends that she takes the starring role in the low-budget film being produced by their friend Lydia Albright. But although Seven Minutes Past Midnight has new writer Mary Anne Myers turning it into a killer script, the male star is in jail, the director Zymar is too busy getting high in Bali and the new studio boss is desperate for Lydia to fail.

---
Also by author:


Hollywood Hit

---