LOUISE HARWOOD
Hippy Chick (2007)
Ibiza is a clubbers' paradise where people escape the rat-race to enjoy the surf, sand and good times. But for Honey Ballantyne, who is responsible for running her family's hotel while her hippie parents chill out, she is beginning to think she needs to escape paradise. Especially as her old friend Edouard's return from London shows her just how trapped she's become. When her father Hughie cracks his head after diving into the shallow end of the pool to impress another woman, he confusedly calls his daughter Rachel. Honey is intrigued to uncover who this mystery woman is and begins a journey that changes everything. The story often appeared disjointed, as if you'd missed reading some pages - or perhaps overindulged in some Ibiza-style partying.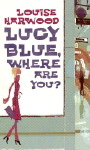 Lucy Blue, Where Are You? (2005)
Lucy Blue is not the sort of girl to pick up a handsome stranger at a snow-bound airport and she's certainly not the sort to leap into bed with him at a motorway motel . . . but this is a special day and in any case they'll never meet again. But after Lucy and Jude part after the long road trip from Scotland to London, she sees signs at her local tube station, asking Lucy Blue, where are you? There was something charming about Lucy Blue and her story.

---
Also by author:


Kiss Like You Mean It



Six Reasons to Stay a Virgin



Calling on Lily

---