LAURIE VIERA RIGLER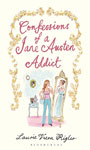 Confessions of a Jane Austen Addict (2007)
LA woman Courtney Stone wakes up to discover she's in the body of a Regency-era Englishwoman called Jane Mansfield back in 1813. Jane has been in a riding accident, and those around her put her strange behaviour down to that. Courtney, a huge Jane Austen fan, at first thinks perhaps she's been reading too much Pride and Prejudice. But soon Courtney realises she must quickly get to grips with being a gentleman's daughter (still unmarried at 30 too!) - the boredom, the morals, the lack of hygiene, the corsets ... not to mention the demanding mother and the possibly untrustworthy suitor, Charles Edgeworth. This is a very funny story which leaves you desperate to know how Jane fares in our time in the sequel Rude Awakenings of a Jane Austen Addict.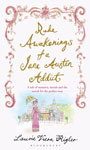 Rude Awakenings of a Jane Austen Addict - Laurie Viera Rigler (2009)
In this sequel to Confessions of a Jane Austen Addict, Jane Mansfield wakes up in the body of Courtney Stone in modern day Los Angeles. As the 19th century Englishwoman struggles to understand modern life, Courtney's friends blame her weird state of mind not just on her bump to the head but also her obsession with Jane Austen and broken engagement. As Jane marvels at modern conveniences, dress standards and social mores, she is drawn to Courtney's friend, Wes. Although there are laughs at Jane's predicament and the story gives more background about why she and Courtney swapped lives, I didn't enjoy it anywhere near as much as the first book. And I was really disappointed how the women ended up.

---
---