LAURA WOLF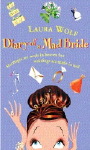 Diary of a Mad Bride (2001)
When Amy Thomas was bridesmaid for a friend, she was driven nuts by her demands and vowed she's never become a crazy, self-centred bride. So now that she is engaged herself (after Stephen proposed in a movie popcorn queue), why are her friends and work assistant cringing every time she comes near? For Amy is quickly discovering that while marriages are made in heaven, weddings are made in hell. While Stephen only as to pick out the wedding band, Amy has a list of 70 items to tick off. Will this couple ever make it to happily ever after?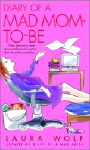 Diary of a Mad Mother-to-Be (2003)
After being married to Stephen for two years, Amy Thomas Stewart decides that she wants to have a baby. With the pregnancy guide BABY HOW BABY NOW and an inaudible gynaecologist she dubs the Crotch Whisperer, Amy has to keep it together as she learns how to be a mother-to-be. She also has to keep her pregnancy a secret from her PR company while she promotes a soap actress who has written an anti-kid book.

---
---