KIMBERLY LLEWELLYN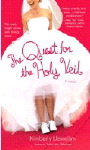 The Quest for the Holy Veil (2007)
Aspiring actress Lucy Ladelle has thrown in her job at her mother's bridal shop and is instead off on her first assignment as a date bait - to entice a client to remain with a matchmaking service. Her date begins badly when she is nearly run over outside the restaurant - but is saved by a dreamy man in adventure wear. From here the date goes from bad to worse when a TV camera crew exposes Lucy and her agency's questionable practices. Lucy then discovers her dreamy rescuer, Lance, is also the producer of the TV show - although he'd much rather be making wildlife documentaries. This loses points for its love interest, who during his adventures stretching from the African savannahs to the Australian outback, picked up some appalling cliched Aussie lingo like "sheilas" and "shrimps on the barbie". Just wishing a big croc had finished him off first!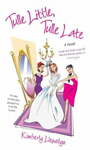 Tulle Little, Tulle Late (2006)
Nina is caught out at the bridal shower of her competitive cousin Celie, trying on her Vera Wang wedding gown. It's the exact same dress Nina never got to wear for her aborted walk down the aisle with globe-trotting journalist Jeremiah. Thinking it's about time she gets serious about her life and her public relations career, Nina puts herself up for a promotion against the young and hungry Chad. Her test is to tame the difficult movie star, Jackleen Liquori. Just as she meets the cool motorbike-riding Dante, who helps charm the aging diva, Jeremiah crashes back into Nina's life, telling her he's in danger. Perhaps all a bit predictable on the romance front but you'll enjoy the author's signature sharp wit.

---
---