KERRY REICHS
Kerry Reichs is the daughter of bestselling thriller writer Kathy Reichs.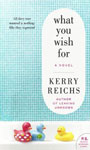 What You Wish For (2012)
When you want a child, you have a vision of how it will happen. You will meet the perfect partner, get married and have the baby. But what happens when life intervenes and things don't go exactly as planned? Dimple, Maryn and Wyatt all want to be parents. However, the road to parenthood is not as smooth as they were hoping it would be and they soon learn to adjust their idea of what makes a family. Although a bit confusing in the beginning due to the number of characters and intermingled stories introduced all at once, I soon found this book hard to put down. Each character's situation is one real people struggle with every day, which made the book highly relatable. The added uncertainty of how each story would wrap up made for a great read to the very end. (LEK)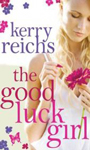 The Good Luck Girl (2009)
aka Leaving Unknown
Maeve Connelly believes she has rotten luck. It took her nearly eight years to graduate college and she still hasn't settled into a career. When she loses her job at the pub for running late yet again (her old banger of a car, Elsie, ran out of petrol), she decides to pack up and head across the country to Los Angeles to meet up with an old friend she reconnected with through Facebook. But her car breaks down in Unknown, Arizona, and the only mechanic for miles has just gone to try his luck in Vegas and no one knows when he'll be back. So Maeve moves into the local boarding house and gets a job in the bookstore. And so begins her fresh start at life, with a new cast of intriguing characters. A truly inspiring story that will entertain, captivate and bring on the tears. Watch out for the occasional appearance of her sister Vi, from Reichs' first novel The Best Day of Someone Else's Life.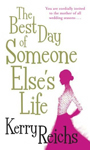 The Best Day of Someone Else's Life (2008)
When Kevin "Vi" Connelly was six years old, she was a flower girl at her aunt's third wedding - and ever since she's been addicted to "marry-tales". Now in her late 20s and working as a wine buyer in Washington, Vi is about to be bridesmaid three times over - and then attend more than a dozen other weddings. Still stuck on her ex Caleb, Vi is wondering if she'll ever experience her own Best Day of Your Life. She's already discovering that weddings are an expensive business even when you're just a guest - Vi even resorts to signing up as a medical guinea-pig to fund her attendances. Read it for the sassy heroine and her mixed-up movie titles, to experience a range of different weddings (please don't leave us on the cash bar side of the fence) and an appealing Irish leading man.

---
---