KATE LAWSON
Also writes under the names Gemma Fox and Sue Welfare.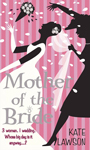 Mother of the Bride (2010)
When Max asks Molly Foster's daughter, Jess, to marry him, nobody is more surprised than Molly - except perhaps Jess herself! After all, they've only been going out a wet weekend ... but if Jess is happy, Molly is happy. Jess's happiness is short-lived though when she finds everyone else is taking control of the wedding. Before Jess knows it, the radio station Molly works for has planned a series of wedding shows with Jess and Max in the starring roles, her overbearing and snobby mother-in-law Marnie has pushed a wedding planner on the happy couple to create the society bash of the year, and even Max seems to be putting up resistance to all of Jess' ideas. To make matters worse, Molly starts to have serious reservations about whether Max truly loves Jess, or if his motivation to get married stems from something else. When Jess meets Oliver and Molly notices the chemistry between them, Molly is forced to ask herself if she can allow her precious daughter to marry Max. Can Jess regain control of her wedding from a mother who isn't convinced the wedding should happen at all, and a mother-in-law who is determined to run the entire show? This is a fun read, but Jess's inability to take control of her own wedding annoyed me at times! However, anyone who's had any involvement in planning a wedding should enjoy and relate to the story. (SBB)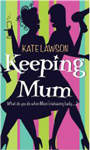 Keeping Mum (2009)
Cass, who runs an antique shop, is about to head off to Cyprus with her choir when her friend Fiona asks her to spy on her boyfriend Andy. Very reluctant to get involved, Cass wonders if Fiona is right to be suspicious when she spots him at the markets with a younger girl. Meanwhile Cass is fending off the unwanted attentions of an architect with a man bag, and dealing with the early arrival of her houseguests, her overbearing mother and her toyboy boyfriend. Not that things are going to be any more peaceful in Cyprus . . .

---
Also by author:


Lessons in Love



Mum's The Word

---