INTERVIEW
December 2009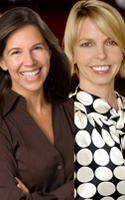 This American pair teamed up to write Feng Shui Love, which was published last month. They are already working on the sequel Feng Shui Love Child and a non-fiction guide to feng shui. Davis, pictured right, is an entertainment lawyer while Hyatt, pictured left, is a corporate flight attendant.
1. So how does a corporate flight attendant and an entertainment lawyer decide to write a novel?

We've been friends since we were teenagers, lived in different States for a while, then reconnected a few years ago after our respective relationships fell apart. While commiserating with each other, we realized it was a relatable situation with many women our age and decided to write a story about it.

2. What inspired the storyline of Feng Shui Love?

We were both doing it! Seriously, we were clearing our love corner, launching balloons, the whole nine yards.

3. How did the two of you meet?

We met when we were teenagers, and really did spend the early 80s worming our way backstage together.

4. Are you like Lily and Brook?

There are definitely some similarities.

5. How did you divide up the writing process?

We would write random scenes individually then piece them together into chapters as the different drafts evolved.

6. Where did the idea of Sweater Arms – a sweater left behind by a mysterious guy Lily hankers after - come from?

The idea of Sweater Arms really did come from a dream but we embellished this idea in the story to make it more interesting.

7. Have you tried all the dating methods described in the book?

Not all of them but friends have told us about their different dating experiences so we used some of them in the story.

8. If you were attaching to a red balloon a photo of someone famous to represent your ideal mate, who would the picture be of?

Hmm, that's a tough one, because there's no way of knowing what traits they would possess other than their looks, so no telling what lunacy you might be inviting into your life. But on looks alone, Lisa says Johnny Depp might be dangling from her balloon and Joni says definitely Jon Bon Jovi but he is married and I don't want bad karma.

9. What can you reveal about the sequel Feng Shui Love Child?

Lily is definitely going to have a lot to deal with in the sequel!

10. How did you get involved in feng shui?

Joni's sister.

11. Tell us about your non-fiction guide.

It's going to be a novelty book included in our Feng Shui Love merchandise line. There will also be a Feng Shui Love kit coming soon.

12. Was there anything special you did to your living space to help your book succeed?

Yes, we put the book cover in our fame sector, along with crystals, and sent up a balloon for the book's success as well.

13. Which 80s music has-been would you most like to look up?

Hmm, maybe someone totally obscure, like the Hooters. We'd be curious to see what they're doing now. We envision them working as bank tellers, or cater waiters.

14. Does singer Steve Perry know he features in your book?

Not yet but we hope he'll take it in the spirit in which it was intended, which was . . . come out of retirement and make some more music!!

15. What other authors and books have inspired you?

There are so many, but to name a few, we love anything by Jennifer Weiner, Claire Cook, Emily Giffin, Saralee Rosenberg, Sophie Kinsella and Adriana Trigiani.

16. What are your plans for 2010?

We're launching a merchandise line of Feng Shui Love items, as well as finishing up the sequel Feng Shui Love Child.

17. What feng shui advice would you give to Tiger Woods?

Move, so that lovely Elin can find her true Feng Shui Love!
---
---