JO CARNEGIE
also writes as Ellie Adams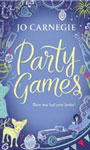 Party Games (2013)
Former magazine editor Catherine is hiding out in the village of Beeversham after a scandal ended her career. Vanessa, one of the celebrities she burnt, has also ended up in the village, living on a massive estate while she works hard to build Brand Powell with her narcissistic actor husband, Conrad. The village is under threat from a developer who wants to build a theme park, and pillar of the community Felix is leading the campaign against it while local MP Jonty does little more than prop up a bar. Meanwhile young Fleur is trying to keep the farm afloat and look after her depressed father. And it seems her rich neighbour, Beau, has eyes on more than just her vast tracts of land. This has so many characters, it is hard to keep track of who's who. But while the pace of the story ebbed and flowed, by the time we get into the real party games it really hits its straps.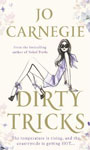 Dirty Tricks (2011)
This book has a great mix of characters - there's Harriet who comes from a wealthy background but that doesn't stop this kind, warm-hearted woman from volunteering at a London community centre in a rough part of town. Saffron moves to the countryside to write a book but has difficulty adjusting to a long-distance relationship with her boyfriend Tom, especially with his model twin brother Rex around to keep her company. I don't tend to read books set in the countryside but I'm really pleased I tried this one - a continuation of Jo Carnegie's Churchminster series. I found it to be a very funny but heartfelt book. It was action packed most of the way but a bit slow towards the end. (KD)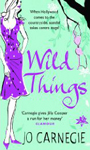 Wild Things (2010)
In this third book in the series centred around the residents of Churchminster, matriarch Clementine is delighted to discover the village has been nominated as a finalist in Britain's Best Village contest. But she's less-than-delighted to find they're up against her smug arch-enemy Veronica, from Maplethorpe. As Clementine forms a garden party committee to ensure the village is looking its best (particularly as it's still recovering from a devastating flood), the village becomes the set for a Hollywood historical romance film. As her granddaughter Calypso is swept away by the charms of leading man Rafe, Camilla finds that her boyfriend Jed is acting out of character. Can the village triumph, particularly as vandals seem intent on wreaking havoc on the village? This falls a bit flat through the middle but all loose ends are suitably resolved by the end - some unexpectedly, others predictably. Perhaps not the wildest read of your life but may be just your thing if you want to indulge in an escapist story.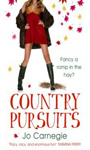 Country Pursuits (2008)
The up-market village of Churchminster is in uproar after discovering a developer has his eye on vast tracts of land for a downmarket housing estate. The villagers are united in a multi-million-dollar fundraising campaign to out-bid disreputable developer Sid Sykes at auction. And Sykes' plans aren't the only sinister development - what with one of the locals turning up dead, a cloaked figure roaming around and a ghost going bump in the night at the mansion of 80s pop star Devon Cornwall. As family matriarch Clementine heads the fund-raising committee, her grand-daughters are more tied up with love matters. Caro isn't aware her arrogant City husband Sebastian is playing away; Camilla isn't sure about her uncouth farmer Angus; while it seems Calypso has given up on men totally. Just the trip if you're in the mood for a lively, irreverent rural romp with lots of name-dropping.

---
Also by author:


Horse Play



Naked Truths

---