HOLLY McQUEEN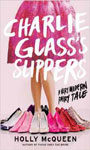 Charlie Glass's Slippers (2014)
Charlie Glass has spent her life being the caregiver of her very ill, very famous father. Her only consolation is cooking - and eating - which doesn't really make things easier for Charlie, seeing as she is overweight and her step-sisters are stick thin. When their dad passes away, Charlie and her step-sisters think that they already know his wishes and for Charlie, that means just inheriting the home she shared with him and nothing else. But Elroy Glass has thrown them all a twist from beyond the grave. He has decided to give Charlie his share of the company stock, making her the primary stockholder. This means that Charlie now runs a shoe company - and not just any shoe company but Elroy Glass, a company so famous that A-listers clamour to get their hands on a pair of her father's heels. What can Charlie possibly know about the shoe industry? And how will she be able to get through the wrath of her horrendous step-mother, Diana, in the process? On top of that, Charlie needs to get thin - fast - so that she can present the right image for the company. But is life just going to miraculously change if Charlie looks ten shades of gorgeous? Well, yes, it just might. Especially when she attracts the affections of the very handsome, very rich Jay Brodrick. Fairytales, however, almost always come crashing down. Will Charlie be able to get her Happily Ever After with so much in the way? This is a hilarious modern take on Cinderella, complete with the evil step-mother and two pretty step-sisters, who treat Charlie like trash. While Charlie and her cast of characters were fabulous, there was one thing that would have made the story even better: If Charlie actually let Jay Brodrick know who she really was and revealed their pre-makeover encounter. This story is so full of heart and eye-wateringly-funny moments that you won't be able to put it down! (AS)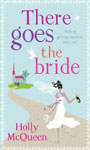 There Goes the Bride (2011)
Polly Atkins was getting married to a wonderful man who adored her and wanted to settle down to buy a house and start a family. But then Polly calls off the wedding weeks before it's due to happen. This sudden change of heart forces Polly's sister, Bella, and Polly's best friend, Grace, to get involved and try to fix things. After all, Polly and Dev are perfect for each other ... if only they can make Polly see that before it's too late. Trying to find out why Polly called off the wedding is harder than the two girls think, as Polly is not forthcoming with information and Dev has no idea at all what happened. While Bella is dealing with a boyfriend who is worthless, and Grace is dealing with a husband who treats her like nothing more than a servant, figuring out Polly's life seems so much easier than dealing with their own. But, as with most things in life, their problems can't be ignored forever. Maybe at the end of it all, all three girls will finally find out what it is that really makes them happy- and what it is that doesn't. Though this novel is not as light and fluffy as McQueen's previous novels, it takes a good look at married life, and marriage in general, with just enough humour and heart to make it unputdownable. (AS)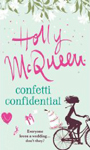 Confetti Confidential (2010)
Isabel Bookbinder is back for a third time, complete with a new career. This time Isabel has decided to be a top wedding planner. She scored a job with Pippa Everitt but Isabel is not a partner, as Pippa told her originally, but instead just a slave to Pippa's every whim. When Isabel inadvertently messes up two weddings at the same time - one of them for a huge celebrity - Pippa fires her and Isabel is forced to start out on her own. Her first client is her best friend, Lara, who is marrying Isabel's brother Matthew. It's none or all for Isabel though, so when she gets a call from an international pop star Summer Shelley (who just may think that she is still working for Pippa) to plan her wedding, Isabel can't say no. Even though Summer wants the wedding in three weeks time, Isabel takes the job, intent on showing her dad that she can do something right. How hard can it be really? Throw in a very handsome photographer named Dan who Isabel has a crush on and her boyfriend, Will, who is not too pleased with Isabel's obvious affections for Dan and you've got a sweet and heartwarming story. At first, I wasn't sure I was going to like this book. I kept thinking : how many times can Isabel change jobs and still make a fresh story out of it? But I was pleasantly surprised as Isabel pulled me right in once again with her trouble-making ways (nothing she does is on purpose of course) and her attempts to do good by her father. It's a must-read for whenever you want something light and enjoyable. (AS)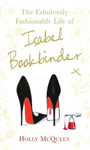 The Fabulously Fashionable Life of Isabel Bookbinder (2009)
Having abandoned her book-writing dreams, Isabel Bookbinder is instead aspiring to be a top international fashion designer. Just as long as you don't need to actually know how to sew anything tricky - like a hem or sleeves. Still telling white lies and getting herself into all sorts of predicaments, Isabel tells her family that she's won a place at a prestigious design school. In fact she's working at a fashion magazine as personal assistant and general dogsbody to designer Lucien Black's famous muse, Nancy Tavistock. With her boss' fortunes on the decline, due to Lucien's disastrous Fashion Week collection, Isabel's busy dreaming up her signature look, deciding which celebrity will launch her perfume and wondering what her lawyer boyfriend Will is up to in the Cayman Islands. It's not all fair in love and fashion - and it seems someone is about to be stitched up. Even if you weren't impressed with Isabel Bookbinder last time, give this sequel a try, she's still as ditzy as ever but it's a much better book.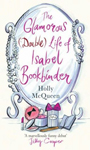 The Glamorous (Double) Life of Isabel Bookbinder (2008)
Isabel Bookbinder tells everyone she is assistant arts editor at the Saturday Mercury - even though her most responsible job is measuring how many column inches the big stories take up each week. But her real ambition in life is to be a best-selling novelist. She's got the swanky notebook, she's worked out the marketing plan for her bonkbuster, she's beginning to get her Look sorted - now all she needs is to actually sit down and write the story. When Isabel inadvertently triggers a political sex scandal, the paparazzi - and possibly MI5 operatives - are on her tail. Coming to her rescue is children's author Katriona de Montfort, who takes her on as her assistant. But it seems the plot that is Isabel's life is about to get even more twisted. A try-hard in the Shopaholic/Bridget Jones mould.

---
---