GEMMA CRISP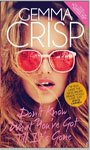 Don't Know What You've Got Till It's Gone (2014)
In this sequel to Be Careful What You Wish For, Nina is back in the editor's chair after her alcohol-fuelled fall from grace. This time it's for celebrity magazine Juice, which involves wooing the stars' managers with lots of cash to secure the best photographs and stories. After the magazine becomes the focus of a behind-the-scenes reality TV show, Nina is about to taste what it's like having a recognisable face. But it is in her personal life that Nina is facing the most trouble. One by one her friends are heading off to Nappy Valley and Nina finds herself bored stiff hanging out with their clucky club. I found it even harder to like Nina this time round. She basically responds to her friends' baby news by throwing the sort of tantrums most associated with fractious toddlers who've skipped their afternoon nap. And it was also a bit disconcerting to think someone could scale the heights of Australia's media while being so thick that she couldn't figure out who was behind the smear campaign or what was ailing one of her friends. But the story itself has plenty to offer readers who love feeling like a magazine insider and the never-ending baby talk between the women is amped up to maximum comedic effect.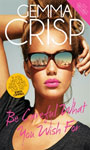 Be Careful What You Wish For (2013)
Nina is an Australian working on the reception desk of a London hotel, catering to the whims of the rich and famous guests. Her own home life is hardly glamorous though, living in a one-bedroom flat in Brixton with two others, including her cousin Tess. Nina is also a magazine addict, and is encouraged to apply for a three-month internship with a prestigious women's magazine. When she becomes acting PA to the demanding editor-in-chief Charlotte, she fears she's walked into a real-life Devil Wears Prada scene. But instead she finds she loves the frenetic pace and is recommended for a job in Sydney after her working visa runs out. From here Nina scores herself a cute boyfriend and quickly scales the ladder in the glitzy magazine world of premieres, freebies and celebrity shoots - a far cry from her upbringing in the Northern Territory. But sitting in the editor's chair proves to have its problems too. Written by the former editor of Cleo and Dolly magazines, the book gives a realistic glimpse into the industry. It's a light, engaging read, perfect for the beach.

---
---