EMILY BARR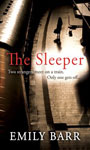 The Sleeper (2013)
Lara has gone missing. She got on the sleeper train from London to Truro but has not disembarked at her destination. And CCTV shows she didn't get off at any of the other stations on the journey. How has a woman disappeared so easily? Her husband Sam is panicking, surely she should have rung by now? Her friend Iris is convinced something serious has happened. Can Iris piece together what has happened before the police do? And, is Lara still alive and if so, is she in danger? Emily Barr's writing leaves you on the edge of your seat as you race towards the dramatic finale. The character development throughout this plot was outstanding and you would struggle not to be drawn into this world. (LL)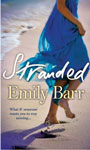 Stranded (2012)
Esther spends her 40th birthday in paradise - snorkelling and lunching on a deserted island in Malaysia. She has travelled halfway around the world, leaving behind her 10-year-old daughter, Daisy, to recover from her broken marriage. But it may be a case of careful what you wish for - lazing around on a tropical island may sound idyllic but what happens when the boat that dropped Esther and her fellow tourists off at the island doesn't return. Not that night, not the next day, not the next week. She is stranded on the island with six other holidaymakers including a pair of American honeymooners; a bickering Australian couple; single traveller Katy and backpacker Ed. Another story - about a girl called Cathy who lives with a religious cult - is interwoven and readers are left to wonder how the two stories will tie together. How everyone deals with being on the island reveals much about the characters and all in all it's a riveting read that is a sort of mix between Lost and Survivor.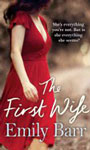 The First Wife (2011)
Lily Button has been caring for her grandparents for years. Now they have both passed on, and she has to sell up their cottage. With no idea how to get on in the world by herself, she heads to the local Citizens' Advice Bureau, where she meets Al. He becomes a friend and Lily ends up moving in with a lovely family, and getting work as a cleaner. One of her clients is former TV star Harry Summer and his wife Sarah. They seem to have the perfect life but Harry returns from their holiday to Barcelona alone - Sarah ended it all by throwing herself into the sea. Lily's relationship with the grieving widower deepens but before she marries him she wants to find out what really happened to the first wife. This is a gripping read with wonderfully drawn characters in Lily - the naive girl who has been sheltered from life for years - and Jack, the New Zealander who has always wanted to travel to Spain. But many of the mysteries were too clearly signposted along the way, making most of the twists anti-climatic.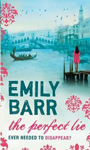 The Perfect Lie (2010)
Lucy Riddick has been running away all her life. Even now that she's finally happy and in a committed relationship with a great man, Lucy knows it can't last. When she rescues her best friend's daughter from near death one fateful day and her face is splashed across the television, she knows that it's time to run again. But where will she go? Where will she be safe? The first place that comes to mind is Venice. Her mum always had a photo of it on her bedroom wall and it seems like the perfect place to lose yourself. But what Lucy finds is that what she's been fearing most is already lying in wait for her in Venice. Is it time to run again or is it time for Lucy to face her fears once and for all? This is a haunting story that flips back and forth between Lucy's current life and her childhood. The situations she experienced in her childhood were horrific and it's hard to read the pieces where Lucy loses her innocence as a child, but it's also written so well that you can't help but turn to the next page. The subjects are serious and a bit heavy, but it's a great story of facing your fears even if it's the last thing you want to do. (AS)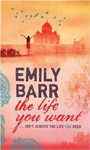 The Life You Want (2009)
Years after she first appeared in Barr's debut novel Backpack, mother of two Tansy is desperately restless. When she married Max, she thought they would still travel the world. But now he's happily settled down, and Tansy is drinking to excess and flirting with her son's teacher. So it is timely when Tansy's old backpacker friend, Elly, gets in touch, asking for her to help out for a month with orphans at her Indian ashram. Tansy soon finds herself rising at 5am and doing yoga, while wondering why she feels like such an inadequate mother in London but is able to bond with the young survivors of the tsunami. Meanwhile childless Alexia starts a blog where she expresses her desire to adopt a child. Although it's a story with a dark edge, somehow it ends up falling flatter than a poppadum.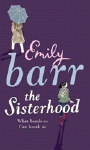 The Sisterhood (2008)
Twenty-year-old Helen has always felt like something was missing in her life. She lives a pampered life in a French chateau but has a distant relationship with her parents. So when she discovers that her mother had abandoned another baby years before, she starts looking for her sister. She finds Elizabeth in England through the internet and so leaves France for the first time in her life to meet her. But she doesn't tell Liz who she is - instead she ingratiates herself into Liz's life with the plan to take her back home to reunite her with her long-lost mother. Liz, whose boyfriend has just left her for someone else, eventually begins to have her suspicions about the clinging French woman. A real page-turner - there will be at least one or two twists that you won't have seen coming.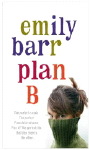 Plan B (2005)
Emma reluctantly sells up her Brighton home after her partner Matt persuades her to buy a farmhouse in the south of France. She arrives to discover it's raining day and night, the roof is leaking and the heat's been shut off. As Matt continues to commute to London, she looks after their daughter Alice and oversees building work on the house. After all, it's all going to be worth it - Matt has promised to move permanently to France and marry her soon. But he is leading a double life and has another family back in England.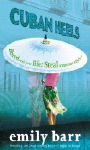 Cuban Heels (2003)
Maggie moved to Brighton after breaking up with her boyfriend. But she doesn't let on to anyone that things aren't working out too great - she's working at a strip club and hasn't made any friends. Instead she eavesdrops on her neighbours Libby and David. When she finds they are travelling to Cuba, with a baby in tow, Maggie also makes plans to head to Havana, enrolling in the same language school as David. Meanwhile her childhood friend Yasmin is up to her usual man-stealing tricks and looks set to create waves in Maggie's new life. Another vivid travel story from Barr with a dark centre.

---
Also by author:


Out of My Depth



Solo



Atlantic Shift



Baggage



Backpack

---