ELISE CHIDLEY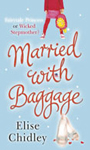 Married with Baggage (2009)
When Annie falls for widower Simon, she knows he comes complete with a young daughter, Lydia. With Simon being sent to market meat pies to the Americans, he asks Annie to marry him and settle in Connecticut. Unable to get a work visa, Annie becomes a stay-at-home mum, helping Lydia settle in to her new school while dealing with being a newcomer with an accent herself. It's an enjoyable enough story about step-mothering and Annie's a likeable enough character. But many of the incidents seemed too contrived and you could tell what was going to happen at the start of the chapter. Here's Annie about to watch the dog run amok at horse riding; here's Annie about to not have lunch with her corporate husband in New York; here's Annie about to be out of her depth at tennis . . .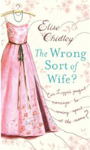 The Wrong Sort of Wife? (2008)
aka Your Roots are Showing
Lizzie Buckley finds managing a household with three-year-old twins with little help from her busy husband is tiring her out. And when she vents her frustration at her married life, instead of sending the email to her sister, Jane, she mistakenly sends it to her husband, James. He takes offence at the fact she prefers a box of chocolate biscuits over sex with him and immediately moves out. Lizzie, who had never felt part of James' titled family, and the kids move away to a small cottage - hoping distance will make her husband's heart grow fonder so he'll take her back. As Lizzie waits for her life to get back on track, she takes up running - will this help her find a whole new lease on life?

---
---