DAKOTA CASSIDY
Dakota Cassidy is also the author of paranormal series.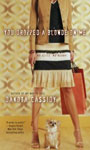 You Dropped a Blonde on Me (2010)
Former trophy wife Max is trying to adjust to life without her car dealer husband's cash. Finley has cut her and her teenage son Connor off, citing a prenup, as he trades her in for a newer shinier model. Homeless and unemployed, Max moves into her mother Mona's retirement village. She runs into Campbell, a former high school classmate who has moved back to help his dad run his plumbing business. There's lots of sexual tension - and sex - between the pair as the wise-cracking Max learns how to suck it up and stand up to her ex. This is the first in a series about ex-trophy wives - got to admit not far in I was already looking to trade this story in for a shinier model too.

---
Also by author:


Waltz This Way



Burning Down the Spouse

---