DAISY WAUGH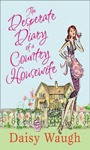 The Desperate Diary of a Country Housewife (2007)
This book is based on the Country Mole column that ran in Britain's Sunday Times newspaper. Freelance journalist Martha Mole longs to bring up her children in fresh air and green fields. So they sell their London home and head for a village in England's south-west. With her husband Finley still working in the city, Martha discovers that the locals aren't really all that welcoming, the Dream House needs lots of repairs, and she's got a big crush on builder Darrell. She begins writing a newspaper column about her experiences - hoping the women at the school gate don't find out. A cautionary tale for cityslickers who are dreaming of a treechange.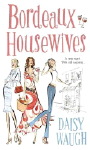 Bordeaux Housewives (2006)
This interesting tale tells the story of three women, Daphne (Duffy) Fielding, Maude Haunt and Lady Emma Rankin. For varying reasons the women live in the town of Montmaur in the South of France. The Haunt family feature most prominently. Maude lives with her husband, Horatio, and their children, Tiffany and Superman; they have a volatile relationship and each spend the entirety of the story questioning the other's love. They have relocated their secretive and dangerous business from the hustle and bustle of London to the quiet environs of France. They attempt to keep their secret under the guise of vegetable farming and running a guesthouse. Meanwhile, Daphne is the poor unloved wife who is spirited off to France to allow her husband to carry on his affair with his mistress. Her husband doesn't bargain on Daphne gaining empowerment and independence from the relationships she makes with these women and by running the Hotel Marrionnier. Of course, meeting the delightful Frenchman Jean-Baptiste also helps. Lady Rankin is wealthy and bored and tries to seduce the local married men. To add more depth to an already packed story, troublemaker Skid comes to town to stir up everybody and the Haunts' friends arrive from London to film a reality TV show. Waugh sets the story beautifully; half the fun is imagining yourself sunning in the south of France enjoying a nice drop of red. (LF)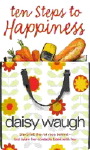 Ten Steps to Happiness (2003)
In this sequel to The New You Survival Kit, PR agent Jo Smiley leaves London to live in her husband Charlie's draughty manor house. In the middle of nowhere, Fiddleford makes the ideal refuge for paparazzi-battered guests such as overweight actress Messy Monroe and charismatic politician Maurice Morrison. And the income will help prevent the house from crumbling around them. But first they have to get past the public health inspector.

---
Also by author:


Bed of Roses



The New You Survival Kit

---