COLETTE CADDLE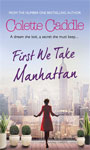 First We Take Manhattan (2014)
Hat designer Sinead is still reeling from the disappearance of her twin and business partner, Sheila. Just like their mother who drowned years earlier, Sheila is presumed dead, after her car and belongings are found abandoned near the ocean. But Sinead can't believe her sister would do anything so desperate and also wonders why Sheila's politician husband, Philip, hasn't done more to try to find her. Then her new assistant, Krystie, makes a surprising admission and Sinead turns her attention towards designing an American collection that she hopes will finally give her answers about her sister. The author weaves an intriguing tale about a disappearing act and the turmoil left in its wake. It all ties together neatly at the end but I just didn't find the revelations that earth-shattering.

Every Time We Say Goodbye (2012)
Marianne and Dominic have a solid marriage, a lovely home and children who are loved. This scenario is very different to the life that Marianne lived when she was a young girl, brought up in a care home and full of self-doubt. Her life now is the one she always dreamt of and the life she has worked very hard to create for her family. Then suddenly the news is broken to her that Dominic has been found dead. One by one the surprising and devastating details emerge. Although Dominic was supposed to be at work he died in a restaurant. His mobile phone is missing. Worse still there are other details that don't add up, a web of lies have been woven. As the police investigation seeks to find out more about the circumstances of Dominic's last day, other facts emerge that point to Dominic leading a double life. Marianne's family and friends show their love and support in this excellently written and compelling story about love and lies, truth and deceit and about friendship and selflessness. It's a lovely, satisfying read. (JH)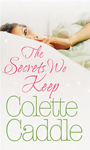 The Secrets We Keep (2009)
Erin runs The Gatehouse guesthouse in the village of Dunbarra. Many of her guests show signs of never wanting to leave - from PJ, who helps out in her market garden; and Hazel, the shy artist with a young daughter who never speaks; to gossipy American Sandra who has just broken up with her husband. In fact, it seems all the guests are hiding something. Then Erin's friend, restaurateur Marguerite, asks if her half-brother, Hollywood actor Sebastian Gray, can stay. It seems he needs a retreat while he recovers from a breakdown. Despite dating a local farmer, Erin finds herself attracted to the moody actor. But will he trust her enough to reveal what has happened to him? This is a slow-paced book but all the guests' secrets eventually come tumbling out. Most did take me by surprise but unfortunately by that stage I didn't really care what happened to the characters.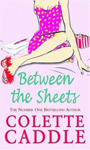 Between the Sheets (2008)
Best-selling romance novelist Dana De Lacey finds she can't focus on her writing when husband Gus walks out, without explanation. Instead of finishing off The Mile High Club, a novel that comes at a crucial turning point in her career, she instead finds herself drawn to her past, detailing her miserable home life with her controlling father, Irish poet Conall O'Carroll. Will resolving her past - including the unexpected appearance of her estranged brother Ed - help her move ahead to a brighter future - and will it be with or without Gus?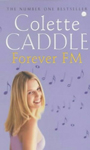 Forever FM (2002)
Three women are brought together through a Dublin radio station. Recruitment consultant Linda helps the station's boss, Jonathan, find his staff but he has a proposal for her to help her recover from the shock of discovering her husband, Patrick, has been having an affair for years. Carrie was Patrick's secretary who quit when she found out what he'd been up to so Linda recommends her for a researcher role on the station's new late-night talk show. Her boyfriend Declan is pleased about the pay rise but not so much about her late hours. Glamorous DJ Maeve isn't so sure the program format is going to be a success. She's always seen at all the right parties with different men on her arm but maybe the right man has been under her nose all this time.

---
Also by author:


A Summer Breeze



From This Moment On



Always on My Mind


It's All About Him



The Betrayal of Grace Mulcahy



Changing Places



Red Letter Day



A Cut Above



Shaken and Stirred



Too Little Too Late

---