CHRISTINA JONES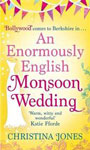 An Enormously English Monsoon Wedding (2013)
Erin is on cloud nine because she is engaged to possibly the most handsome man on earth, Jay. Erin is determined to have a perfect British wedding. Everything has been finalised; flowers, venue, food, wine, and reception- you name it. Just when she is sure that nothing can stop her from having the dream wedding, she gets the surprise of her life. Jay's parents have made their own little changes to the wedding without permission as they want the traditional Indian wedding for their only son. Now there is going to be lots of traditions, including sagai, mehendi, sangeet, sanji and of course mandap. And if it's not enough then Erin might have to pack away her beautiful white wedding gown and wear sari on the big day. In the midst of all the family drama, Jay's best friend, Nalisha, arrives from New York and is making Erin's life a living hell. This wedding is not going to be easy but one thing for sure is that there is going to be a lot of hungama (fun and drama). This book is fab and so funny. Christina's writing is fresh and I loved Erin - and Jay's parents even more. They are typical Indian parents, dominating and emotional blackmailers. Don't forget that I am Indian and I can see my parents in Jay's parents; they are so damn similar. (SS)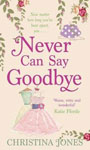 Never Can Say Goodbye (2011)
Frankie is surprised to discover she's about to inherit a clothing hire shop from her boss Rita, who is off to chase the sun. As she tries to make Francesca's Fabulous Frocks into a success, selling vintage dresses, she has her eye on the new guy on the flower stall, Dexter. His uncle Ray has headed off to the Greek isle of Mykonos with Rita, leaving him behind to make a very big impression on the village's fairer sex. But it seems not only are there ghosts of Dexter's past lurking, there's actually a real ghost lurking in the shop, attached to his late wife's wedding gown. When Maisie, the busybody village medium, weighs in, things start getting even more out of hand. This is a delightful rom-com full of quirky characters - the ghostly elements are handled lightly and the cold wintery setting adds lots of atmosphere. Regular readers of Christina Jones' books will no doubt be delighted to be reunited with many familiar characters from previous novels.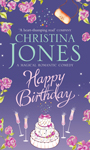 Happy Birthday (2008)
Phoebe has just been jilted at the altar by her long-time love Ben. The marriage-that-never-happened leaves her gloomy and feeling hopeless about love - plus she's left with a flat she can't afford by herself. To make things worse, she has to put up with her irritatingly attractive neighbour, Rocky, who has just got out of the prison and wants to be left alone after a nasty break-up with his sizzling hot girlfriend. In order to keep paying the rent and fill her lonely evenings, Phoebe takes on hairdressing at the nearby old-peoples home Twilights, which is run by some awful owners. She befriends Essie who has been left in the home by her greedy children. She discovers that Essie shares her love for tarot-reading, astrology and lots of other '-ologies'. Essie passes on her very secret Happy Birthday magic to Phoebe - a secret which can make couples fall in love and stick together for eternity. This book is the fabulous blend of young and old characters and revisits some characters from previous books. (SS)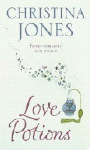 Love Potions (2006)
Things start going amiss in Bagley-cum-Russet when beauty therapist Sukie Ambrose finds a naked man in her bed and discovers her aromatherapy oils are jetting off on someone else's honeymoon. So she ignores the warnings of a village old-timer and uses the plants in her cottage garden to supply her massage oils. Suddenly her clients start falling in love with the most unlikely characters. But should Sukie use the potions in her own love spell or should she leave her flatmate's boyfriend well alone?

---
Also by author:


That Red Hot Rock'n'Roll Summer



The Way to a Woman's Heart



Heaven Sent



Seeing Stars



Hubble Bubble



Tickled Pink

---