CATRIONA McCLOUD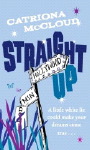 Straight Up (2008)
Verity's husband, Kim, has moved on with another woman and to deal with her trauma, the florist writes a book called Straight Up about a mountaineer who dies a lonely death trapped in an icy crevice. When Hollywood comes calling, a few white lies lead Verity deep into trouble. Soon the people she's meant to impress - including script scout Jasmine and producer Patrice - believe that her husband is dead, and that her novel is based on a true story. As the buzz grows, someone turns up in LA who could expose her lies. And it appears not everyone is being straight up with Verity either. This will appeal to those who like a quirky story.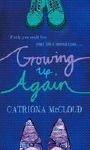 Growing Up Again (2007)
Janie Lawson tells her husband Ludo that she is leaving him after 14 years of marriage. The next morning she wakes up back in her childhood room and finds it's 1981 and she's a teenager again. It may be too late to save Elvis but Janie decides to warn Princess Diana and prevent many of the world's tragedies. Janie also welcomes a second chance in her personal life. For one, maybe she can help her parents find their bliss. Oh and she could be nicer to that geeky classmate Danny, invest in some sure-thing shares and devise the odd ratings-winning TV show. But most of all Janie wants to do things differently with Ludo. Soon Janie realises that even second time around, nothing is guaranteed. The explanation of how and why Janie has time travelled is not really explained satisfactorily (but then again this isn't sci-fi), and as a teen of the 80s I'd have liked to have seen more 80s cultural references. But don't miss out on reading this - unlike Janie, you may not get a second chance.

---
---