ARABELLA WEIR
Arabella Weir is a British comedian.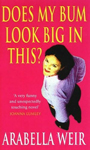 Does My Bum Look Big In This? (1997)
This is the diary of Jacqueline M. Pane, who thinks her life would be perfect if only she had a smaller bottom. She's a neurotic single 30-something conference organiser living in London who over-analyses everything that happens to her. But after a while her insecurities become wearying and unfortunately she comes across as Bridget Jones' poorer cousin.

---
Also by author:


Stupid Cupid



Onwards and Upwards

---