ANNE-MARIE O'CONNOR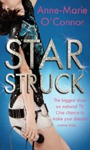 Star Struck (2009)
Catherine doesn't want to be a star - she just wants to sing. So with trepidation she auditions for reality TV show Star Maker. She nearly doesn't make it through when her mad Manchester family crash the audition but she is given a second chance by head judge Richard Forster. From there, Catherine's life is turned upside down, with makeovers, singing lessons and media training. She also has to deal with Richard's Machiavellian plotting, a right diva for a roommate, her father's media blitz and a relationship with a cameraman. This will be a hit with anyone who wants to know what could be going on backstage on a show like the X-Factor or Idol. But the real show is in Catherine's family dramas.

Everyone's Got a Bono Story (2004)
In a city like Dublin, it seems like everyone has a story about Bono. From standing next to him at a urinal to sharing a Guinness with him at your local, everyone has met the U2 legend. Everyone except Aoife. On the edge after losing her job and flat, her best friend Rory bets her 5000 euros that she can't get herself a Bono story. Even after dressing like a nun, hanging around at airports, even thinking about staking out a sunglasses store, for Aoife it's a case of I still haven't found what I'm looking for. This funny tale comes with side stories about Rory's pride as he tries to stand up to his bullying, wealthy father, Aoife's frustration at her meddling mother and her desire to become a fashion designer. Plus love comes to town when Aoife meets Paul. I'm sure U2 will love it!

---
Also by author:


My Made Up Life

---