AMY APPLETON
The pseudonym of a best-selling author who is keeping her identity under wraps.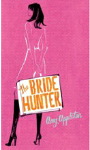 The Bride Hunter (2008)
Becca Orchard is known as the Bride Hunter, as she helps London's rich bachelors find the perfect wife. With psychology training behind her, she began her business after her boyfriend, Marcus, the boss of her head-hunting company, dumped then sacked her. Up to now she has a 100 per cent matchmaking record but her latest clients include Dwight, a divorced man looking for a sweet Scottish lass rather than a gold-digger; Edward, a shy banker who doesn't realise his boss has engaged her services; and Sam, her first female client who won't take no for an answer. Along the way she meets Adam. But is he a potential match for Sam or the man who will teach this love-shy Cupid to love again?

---
Interview:
---