NEW RELEASE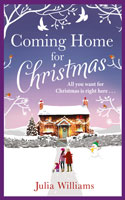 Coming Home for Christmas - Julia Williams (2014)
This is set in the small village of Hope Christmas where three close friends all have their own issues to deal with this Christmas. Cat is a TV chef who is worried she's becoming too old for TV. She is keeping her fingers crossed she will still be able to host her festive cooking show, but at the same time she's busy taking care of her granddaughter Lou Lou. Marianne is the mother of twins, which is already cause for quite hectic days. Things only get worse when her father gets ill and her husband's ex-wife suddenly comes back into their lives in an unexpected way. Pippa knows her marriage to Dan is over but somehow she can't seem to let go. Not even her new boyfriend, Richard, is able to make her forget about her happy marriage, until Dan files for divorce. Meanwhile the women's beloved village is in danger when developer LK Holdings plans to use some land for a luxurious hotel and spa. Will they be able to handle it all and have the merry Christmas they've hoped for...? This book is actually the third part of a series, but I had no idea this was the case when I started reading it. Even though the characters have been through a lot and I sometimes had to read certain passages twice to really understand everything that had happened to the different characters, the book can definitely be read as a stand-alone. The novel has a well-drawn cast of characters at its core; I loved the switch from the points of view of Cat, Marianne and Pippa, and I couldn't get enough of each of their stories. The story has a wonderful setting, namely the village of Hope Christmas; a small village where everyone knows each other and where everyone works together to protect their home. Even though the novel is not as festive as I'd hoped it would be, it did manage to get me in a bit of a Christmas mood and long for the holidays! Julia Williams has a quick-paced, warm and detailed writing style which I personally really enjoyed. Overall, Coming Home for Christmas is a wonderful holiday read filled to the brim with a thoroughly enjoyable story. (JoH)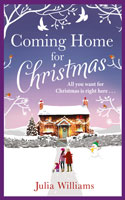 Julia Williams continues her festive series with the third book, Coming Home for Christmas. The summary says: "Cat Tinsall is ably juggling her busy family life - a quintessential 'sandwich generation' woman, she's responsible for the care of her kids, her mother-in-law, and her baby granddaughter. Her TV career as The Happy Homemaker is looking rocky - and she'll do anything to resist the whispers that, as a woman over 40, she's in danger of 'fading to grey'. She's got an awful lot on her plate ... Cat's good friend Pippa Holliday is finding life as a single mum a challenge, especially now the farm her family have called home for generations is in dire financial straits. And schoolteacher Marianne North, with her young twins and teenage stepson, is dismayed to find her increasingly absent husband calling on her to take his damaged and delicate ex-wife into their home - with no moving out date in sight. As the close-knit village community of Hope Christmas pulls together to battle ruthless plans from local developers, it looks like each of these three women needs a miracle. As Christmas approaches, bringing with it more than one surprising turn of events, it appears they might just find one ..." Coming Home for Christmas is out in November 2014.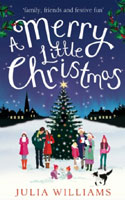 A Merry Little Christmas - Julia Williams (2012)
Despite the title, the novel focuses not on the festive season but on a year-long period in the life of three characters, from New Year to Christmas. Cat is precariously balancing her professional life with her increasingly problematic familial duties. She expected motherhood to get easier as her four children got older but the opposite seems to be true, particularly with teenager Mel. And Cat is also worried about her mum, who she seems to be losing evermore to dementia. Pippa feels blessed for the family she has around her - husband Dan, who is a wonderful partner and father, her two boys Nathan and George, and her daughter Lucy, who despite having cystic fibrosis that leaves her wheelchair-bound, is a bundle of joy. But government cuts threaten Lucy's respite care, a vital resource for the whole family and many other families in the area. Pippa vows to fight the bureaucracy, but when Dan is involved in an accident, everything changes. Marianne is trying to settle back into work after having twins and while life at home is good, her husband's ex, Eve, starts getting more involved in her son's life and encourages him to try out at a prestigious choral school, which would mean leaving home. This is a sequel to Last Christmas and perhaps this explains in part the otherwise mysterious, and rather superfluous, part of Michael Nicholas, who turns up at the start of the novel, is implausibly on hand throughout dispensing pearls of wisdom to the three women, and rides off again at the end of the novel. Although it was intended to deliver a bit of magic and fit in with the festive theme of the novel, I did feel that Michael's presence was unnecessary. Whilst I liked elements of the novel, I felt that some stories were a lot weaker than others and the novel seemed to move quite slowly. I must admit I was also quite disappointed with the ending of Pippa and Dan's story which seemed to me to undo the whole festive fabric of the novel. Nevertheless, there is much to get into in this novel and perhaps reading Last Christmas may be the way into it. (JC)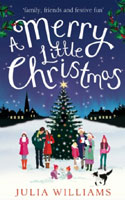 A Merry Little Christmas is the sequel to Julia Williams' Last Christmas. The summary says: "With her family growing up and away from her, Cat Tinsall thinks that maybe things should be different next year, and the Tinsalls should have a Christmas away from it all. But does getting away from it all, really solve anything? And will having a newborn grandchild to deal with make or break that special day? In the meantime Marianne and Gabriel North are coming to terms with some changes in their family life, as they face up to the demands of dealing with ageing parents, small children and a teenage son who may be on the path to stardom. Christmas has always been that special family time, but will the next one bring them only heartache? While for Pippa Holliday still reeling from the shock of events two years previously, some days it feels like she will never be happy again. With her two teenage sons verging on leaving home, and her special-needs daughter taking up all her spare time, can Pippa find a way to make a new life for herself, or will next Christmas be as bleak as the last? Into their lives comes an old friend in the shape of Ralph St Nicholas, who together with his nephew, Michael, reminds them all of the true meaning of the festive season."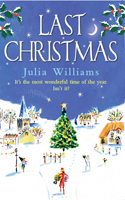 Julia Williams has written a festive novel called Last Christmas. The summary says: "Catherine Tinsall is gearing up for Christmas - in the middle of summer. As the Writer in Chief on Happy Homes magazine, she is putting together a 'perfect Christmas' competition, to remind readers of the festive season's true meaning. In the sleepy Shropshire village of Hope Christmas, Marianne Mistletan enters with the suggestion that her village's nativity play be held in the ancient chapel of Fitzcross Manor, home to the St Nicholas family. Catherine is completely entranced by the idea, and Marianne to her delight finds that she has won. Waiting in the wings to help Marianne organise the set design is the cool and charismatic Joe Carpenter, who may or may not be just what she wants for Christmas. Meanwhile, for Catherine, the Happy Homemaker image is wearing thin, as her fifteen-year old marriage appears to be in trouble. Then tragedy strikes and Catherine is forced to reassess her priorities, and work out what the perfect Christmas really means. And overseeing it all, is the figure of John St Nicholas, lord of the manor and perhaps, for some, a Christmas angel..."
---
---