NEW RELEASE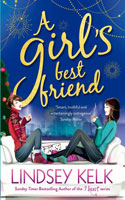 A Girl's Best Friend by Lindsey Kelk continues the series about Tess Brookes, with the new novel having a festive spin. The summary says: "Is it diamonds - or is it Amy? First Tess was a girl with a plan. Then she was a girl with a dream. Now she's a girl who's come back to earth with a bump. When the opportunity arises to join her best friend, Amy, in New York for Christmas, Tess jumps at the chance. The only fly in ointment is that Nick, the man who broke her heart, lives there. And Charlie, the man she turned down, has just started talking to her again. And she has just four days to take a photo for a competition that could save her career. But aside from that, everything is going to be great: it'll be the best Christmas ever. Won't it?" A Girl's Best Friend is out in November 2015.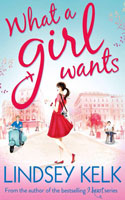 What a Girl Wants - Lindsey Kelk (2014)
In this sequel to About a Girl, Tess gets herself in a spot of trouble when she tries to sneak stuff out of her flat without flatmate Vanessa noticing. She is also faced with a big decision - does she stay in London and set up an advertising agency with best friend Charlie, who's just admitted he loves her, or does she accept a dream photography assignment in Milan. Meanwhile Nick, the writer she fell for in Hawaii, isn't answering her calls because he's mad she lied about her identity. Despite not having read the prequel, the storyline was easy enough to follow but perhaps I wasn't as invested in the characters. Tess is one of those girls who gets herself in a pickle wherever she goes and no doubt many readers will delight in her twenty-something antics and the Charlie-Nick love triangle. The story lost a bit of momentum through the middle but the many hilarious scenes and Kelk's easy writing style certainly made up for it overall. But don't expect a neat ending as there's another book to come.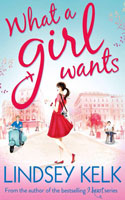 What a Girl Wants is the sequel to Lindsey Kelk's About a Girl. The summary says: "Tess Brookes was the girl with a plan. Now she's the girl with a choice. Should she stay in London and start her own advertising agency with her best friend and potential boyfriend Charlie? Or should she head to exciting Milan to pursue both a new career as a photographer and a new man, the enigmatic and elusive (and highly irritating) Nick? For the first time, Tess has to choose between the life she always dreamed of and a future she never imagined possible. With her heart and her head pulling her in different directions, Tess has to make a life-changing decision about what a girl wants."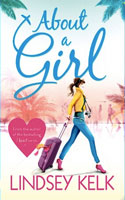 Lovable Tess Brookes didn't mean to let things get so out of control but when she loses the job she's slaved over for absolutely no reason and gets rejected by her best friend and love of her life, taking off for Hawaii seems like the perfect thing to do. Nevermind that she's taking off under false pretenses. Nevermind that she has no idea how to do the job she's accepted. Nevermind that she took on her roommate Vanessa's identity. All that is water under the bridge...until she gets to Hawaii and things become real. First off, she meets the handsome reporter she'll be working alongside and then she meets the art director of Gloss magazine, who expects Tess to provide top-of-the-line photos for a really important interview. Can she pull it off? And just how long can she go on being Vanessa without someone catching on? A fun, flirty story that is the perfect summer read. You'll definitely want to get lost in Lindsey's terrific new series! (AS)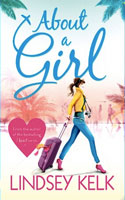 About a Girl is the first book in a new series by Lindsey Kelk. The summary says: "I'd lost my job. I'd lost the love of my life. My mum wasn't talking to me. My best friend was epically pissed off. And my flatmate probably had a hit out on me by now. I never meant for things to get so out of hand... Tess Brookes has always been a Girl with a Plan. But when her carefully constructed Plan goes belly up, she's forced to reconsider. After accidently answering her flatmate Vanessa's phone, she decides that since being Tess isn't going so well, why shouldn't she try out being Vanessa? With nothing left to lose, she accepts Vanessa's photography assignment to an exotic island - she used to be an amateur snapper, how hard can it be? Right? But Tess is soon in big trouble - she isn't a photographer, she isn't Vanessa, and the gorgeous journalist on the shoot with her, who is making it very clear he'd like to get into her pants, is an egotistical monster. Far from home and in someone else's shoes, Tess must decide whether to fight on through, or 'fess up and run..."
---
---