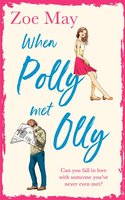 When Polly Met Olly, by Zoe May, asks can you fall in love with someone you've never even met.
The summary says: "Polly might spend her days searching for eligible matches for her elite list of clients at her New York dating agency, but her own love life is starting to go up in smoke.
Even worse, she can't stop thinking about the very person she's meant to be setting her latest client up with... surely it can't get any worse!
But then Polly bumps into oh-so-handsome Olly, who heads up a rival agency, and realises that perhaps all really is fair in love and dating war." When Polly Met Olly is out in January 2019.
TEXT