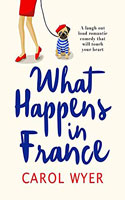 Carol Wyer's latest novel, What Happens in France, is about a woman on a mission to find her sister.
The summary says: "Bryony Masters has been looking for her long-lost sister, Hannah, for years, but when their father has a stroke her search takes on new urgency. So when primetime game show, What Happens in France, puts a call-out for new contestants, Bryony spots the ultimate public platform to find her reality TV-obsessed sister, and finally reunite their family.
With the help of handsome teammate Lewis, it's not long before she's on a private jet heading for the stunning beauty of rural France. With a social media star dog, a high-maintenance quiz host and a cast of truly unique characters, Bryony and Lewis have their work cut out for them to stay on the show and in the public eye.
Yet as the audience grows and the grand prize beckons they find that the search that brought them together may just fulfil more than one heart's wish..." What Happens in France is out in January 2019.
TEXT