VICTORIA BROOKMAN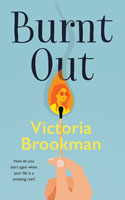 Burnt Out (2022)
Cali has spent much of the summer evacuating her Blue Mountains home due to the threat of bushfires. What she hasn't been doing is writing her second novel even though her agent is getting antsy.
After her husband announces that he's leaving her, Cali wallows at home, not realising that a fire is roaring towards her. Rescued by the neighbour Spike, she shelters in place with him and an elderly French lady with an intriguing background.
Confronted by the loss of her home and cat – as well as the imaginary manuscript she told her agent she had already written - Cali appears on the TV news declaring that the rich and powerful must do something to address climate change.
When her emotional speech goes viral, she is offered a new publishing deal as well as a place to stay by a tech billionaire. But while things seem to be looking on the up for Cali, she knows she is living a lie.
This was a promising debut, joining a number of other Australian novels I've read with a bushfire at its core. It's a threat that unfortunately tinges every Australian summer, in fact while I was reading this, a fire was burning through nearby bushland.
Cali was a flawed protagonist, whose usual response was to lie straightaway to cover her tracks, so as a reader it was interesting to follow her journey to find her moral reckoning and see her strive to make a positive impact.

---