TORI HASCHKA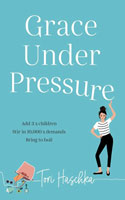 Grace Under Pressure (2021)
Cookbook writer Grace has two children and another on the way. But her work-away-a lot husband isn't too keen on adding any more stresses to their life.
Former soapie actress Petra makes some money moderating the Beaches Mums Facebook group but is hoping to start up a co-working space. Meanwhile Shelly has hardly slept since her daughter Serena was born.
One night both women turn up on Grace's doorstep needing a place to stay and a mothers' commune (mummune) is formed.
This debut novel set on Sydney's Northern Beaches offers a whipsmart and witty insight into the pressures of modern-day motherhood from sleep deprivation to posing for the 'gram. It also poses the question: if it takes a village, does a communal set-up without men provide the answer to women's prayers?

---