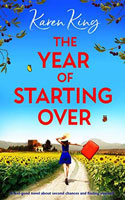 The Year of Starting Over, by Karen King, is a story about second chances and finding yourself. The summary says: What if instead of changing boyfriends, you changed... everything?
When Holly discovers Scott has decided to take a spur-of-the-moment holiday (and hasn't invited her), she knows something has to change.
All she had ever wanted was to have a wonderful, loving relationship like her beloved grandparents Nanna and Pops. But that is clearly never happening for her, and definitely not with Scott. So when Pops leave her some money to 'make her dreams come true', she decides she's going to change her life.
Holly is going to end the relationship with Scott which is clearly going nowhere, and instead take a year for herself to go... somewhere. Anywhere. To have a proper adventure. She's going to find out who she really is, and what she's good at. To brave things she could never experience from the safety of her own sofa...
Cramming her belongings into her little yellow Mini, Holly drives on to a ferry bound to Spain. And her year of changing everything.
Even when she meets a man called Matias who drives her crazy but sets her heart racing, she knows she can't be distracted. Because this year - for Holly - there are more important things in life than love. And she won't let yet another bad relationship ruin everything... will she?" The Year of Starting Over is out in February 2019.
TEXT